Leaders from HCM City's Labor Union have paid visits and have provided support of VND 950 million (US$52,000) to victims of Typhoon Ketsana in the Central provinces, including Quang Ngai, Binh Dinh, Kon Tum, Quang Nam, Quang Binh, Quang Tri, Thua Thien Hue and Da Nang City from October 5 to 6.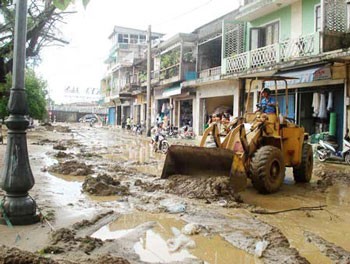 Sanitation worker cleans up a street covered with mud in Hue City .
The city's Labor Union had previously donated VND1 billion to typhoon victims in the Central region.
Sai Gon Cultural Products Corporation also offered VND139 million ($7,700) to the victims of Typhoon Ketsana in Central and Highland provinces.
To support the call of the Management Committee of Ho Chi Minh City Buddhist Sangha, districts' Buddhist representatives, together with Buddhists, monks and nuns from pagodas around the city, gave VND2.5 billion ($138,000).
Ho Chi Minh City's Party Committee's, People's Committee, Government and Party block supported people with VND200 million (over $10,000).
Leaders and officials of the Ho Chi Minh City Party Committee collected more than VND42 million (over US$2,000).
Employees of the Department of Fire Prevention and Fighting Police contributed one day's salary to the helping fund for the victims of the natural disaster.
HCMC Red Cross cooperated with Kem Nghia Nippers Joint Stock Company and Ung Binh Trade, Production and Construction Company, together with many other sponsors, gave 1,000 gifts including instant noodles, milk, MSG, vegetable oil, clothes and blanket worth VND450,000 each to typhoon victims in the of districts Ma D'Rac in Dak Lak Province, Kbang in Gia Lai Province, Dak Glei and Kon Plong in Kon Tum Province.
Phu Nhuan Jewelry Joint Stock Company sent 800 gifts to victims in Quang Ngai Province.
Representatives of Saigon Co-op gave 1,043 gifts worth VND200,000 each to disadvantaged people in the provinces of Quang Nam, Quang Ngai, Kon Tum, Thua Thien-Hue and Da Nang City.
In addition, the company's co-op marts in the Central region will offer a discount of ten to 15 percent on instant noodles and 25 to 40 percent on blankets, towels, coats, flashlights and other essentials.
Saigon Trading Group (SATRA Group) encouraged its staff to contribute VND300 million (more than $16,000).
ACB Bank mobilized VND1.5 billion (over $80,000) for the residents in Quang Nam, Da Nang and Hue.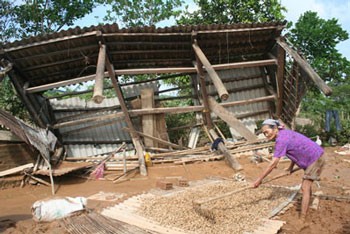 A house collapses due to the damage of typhoon Ketsana.
According to the HCM city Fatherland Front Committee, more than VND856 million ($47,000) and 30 tones of rice, instant noodles and clothes were sent to typhoon victims by over 90 organizations and individuals.
HCM City's Fatherland Front Committee also supported VND1.4 billion (over $77,000)  to Quang Nam and Quang Ngai, VND1.5 billion (over $80,000)  to Da Nang , Thua Thien-Hue and Kon Tum, VND100 million ($5,500) and 20 tons of rice to communities to Lam Dong Province.
Typhoon Ketsana killed 159 people in Vietnam's Central and Central Highlands regions, with 15 missing and 629 people injured, according to the latest statistics of the Central Steering Committee for Flood and Storm Prevention and Control October 5.

ASEAN Deputy Secretary General Sayakane Sisouvong visited Vietnam October 4 to 6 to work on helping Vietnam recover from typhoon Ketsana
He held a working session with senior officials from the ministries of Foreign Affairs, and Agriculture and Rural Development and the Vietnam Fatherland Front to assess losses and ASEAN's capability to help affected areas on October 5.
He said that he will call on the international community to help countries which were hard hit by natural disasters.
He advised that the ASEAN Secretariat had set up a Cooperation Fund for Emergency Relief to solicit and receive donations from ASEAN members and its partners.