Wage increase, better health care and tight control on food safety and hygiene have been requested by many deputies at a Ho Chi Minh City People's Council meeting Wednesday.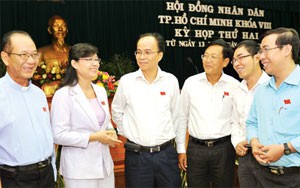 HCMC People's Council chairwoman Nguyen Thi Quyet Tam talks with city deputies during a Wednesday meeting
Deputy Le Manh Ha said that low payment has triggered more conflicts between employers and employees.
Officials should make a survey finding out which businesses are paying below the average level and ask them to raise their wage, before any severe conflicts happened, Ha said at the first meeting of the second session of the eighth city council, which acts as the National Assembly at city/provincial level.
The government recently raised the minimum wage by 14 percent from VND730,000 (US$35) to VND830,000 ($40).
Yet deputy Pham Hieu Nghia said that it should not be a fixed wage for all localities as workers in HCMC are put under more price pressure.
Deputy Nguyen Quy Hoa said that accelerating inflation has added to the hard life of many workers.
Hoa suggested the council officers to make regular inspections at businesses to check how they take care of the workers.
"Business should pay workers the most they can," he said, adding that the government should create good access to capital for businesses.
Hoa also pointed out that a national program on medicine price stabilization has not worked well as many hospitals have prescribed with drugs out of the stability list.
A deputy, whose name was not released, suggested that health officials should put up stores selling drugs under the stabilized price program at places approachable to poor people.
Deputy Nguyen Van Sen said that the city's children health care has been weak, though the city has chosen 2011 the year for children.
The city has recorded 16 children killed by hand, foot and mouth disease this year, up from only dead case last year.
Meanwhile deputy Vo Van Sen said that control on food safety and hygiene has left loosen the past time.
Sen said vegetables from wholesale markets in the city outskirts were not checked carefully when brought to the downtown.
Nguyen Thi Quyet Tam, chairwoman of the council, said that she would forward the ideas to the city People's Committee and concerned agencies.
Tam said the officials would keep better control on the city socio-economic conditions during the second half of the year.