Many questions on price stabilization and health care have been left with unsatisfactory answers as the second session of the eighth Ho Chi Minh City People's Council closed Thursday.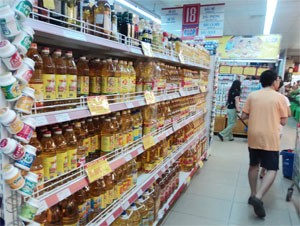 Cooking oil is among the eight state-subsidized goods this year (Photo: Minh Tri)
Le Ngoc Dao, deputy director of the city Department of Industry and Trade, said that the city has implemented four programs throughout the year for stabilizing foods, necessities, school products and formula milk for children under one year old and old people.
Dao said the city has a total of 3,661 places selling stabilized price products.
Yet deputy Tran Trong Dung said that the products are charged differently at different prices.
Notebooks are a product under price stabilization program but those at Nguyen Thi Minh Khai bookstore are sold at higher prices than those at Co.opMart supermarket, Dung said.
Dao said that the prices have been set by the city Finance Department and any violations would be punished.
She said the city would have officials check Dung's information and intervene if necessary.
Health care issues made a hot debate at the meeting with eleven deputies questioning the councilors.
Deputy Huynh Cong Hung said that many hospital projects in the city districts have been dragged behind schedule.
Hung pointed out 101 such projects in the first half this year.
He asked the city authorities to be better prepared on investment fund and ground to process the projects properly.
The deputy also asked the Health Department to clarify why health staff at districts have been so thin, making it hard to guarantee proper local health care services.
Pham Viet Thanh, director of the city Health Department, said that the department is still asking for more staff.
Deputy Thai Tuan Chi questioned on measures to curb the worsening dengue fever, with double cases year on year, while deputy Nguyen Thi Ngoc Hanh complained that the city's program on women's gynecological health care has not helped after seven years while the rate of sick women has increased from 44 to 46 percent.
Thanh said that many ongoing constructions in the city are polluting the environment, adding to the dengue fever and the problem needs to be solved by many agencies together.
Responding to Hanh, Thanh said that gynecological diseases are "typical" to women in rural and outskirts areas.
Le Hoang Quan, chairman of the city People's Committee, said at the meeting that the city in the coming time will continue efforts to solve long-lasting problems such as traffic jams, flooding, and delayed constructions.
Quan said the city will try to take care better of the life of low-income workers and immigrant students in the city. 
 
He guarantees no cutback on the investment for medical and education projects this year.