Ho Chi Minh City dumps about 7,000 tons of waste electronic items every year, and most of this waste is handled manually which causes toxic gases to leak out into the environment.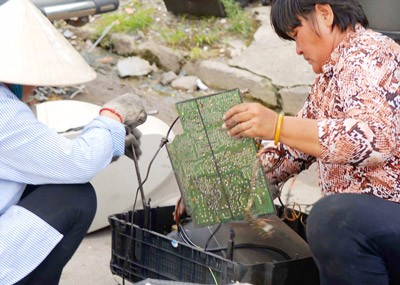 Electronic waste items are manually stripped in HCMC (Photo: SGGP)
Dr. Tran Minh Chi, from the Institute of Tropical Technology and Environmental Protection, said that electronic waste from computers, cell phones and television sets amounts to about 7,000 tons a year.
This volume is expected to increase to 8,000 tons in 2015 and 11,000 in 2020.
There are three sources for this electronic waste in HCMC, some coming from households and offices, some from smuggled goods from other countries and some making its way into the City from neighboring provinces.
According to Dr. Chi, HCMC has about 550 units that collect and strip components from dumped electronics. Most of these are working without a license in Districts 8, 9, Thu Duc and Binh Thanh. 
These unlicensed collecting units do not have the equipment or technology to grind, crush and compress electronic waste and mostly handle it manually. Workers manually strip the components they need for selling and separate them into four groups.
These groups are categorized into parts that could be reused, parts that do not need to be repaired, those that need repair, and parts that are totally useless.
Parts and components that can be reused are sold to poor vendors and parts that are absolutely useless are mixed with household waste to be thrown into garbage dumps.
Nguyen Trung Viet, head of the Solid Waste Management Division under the Department of Natural Resources and Environment in HCMC, said that the manual separation for components of electronic waste cause a large volume of harmful gases to leak out into the environment.
Among the toxic gases is HCFC which is said to cause greenhouse gas effect. Besides, electronic waste also contains several other harmful ingredients like lead, cadimin, lead oxide, mercury, dioxin and furan.
Dr. Le Van Khoa, from the University of Technology in HCMC, said that the city should have a legal framework for collecting, recycling, and reusing of electronic waste. At present, treatment of electronic waste is out of management by authorized organs.
Manufacturers should be forced to withdraw 50 percent of products they sell and consumers should be made to pay a fee to collect and recycle their own electronic waste.