In the friendly atmosphere, the deputy secretary of the city's Party Committee introduced activities and working plan of the delegation in provinces of Champasak, Savannakhet and Xiangkhouang, Vientiane capital of Laos.
Investment promotion conference, international friendship exhibition and the Ho Chi Minh City's Days in Laos were successfully held, he said.
On behalf of the city delegation, Mr. Tat Thanh Cang wished good health to Sisavat Keobunphan.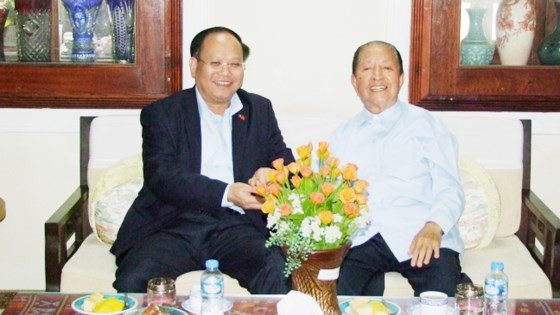 Deputy Standing Secretary of the Ho Chi Minh City Party Committee Tat Thanh Cang wishes good health to Sisavat Keobunphan.

The former Laotian leader expressed his pleasure at the visit of the high- ranking delegation; and he stressed that Vietnam-Laos ties have blossomed over the years on base of special solidarity development between the two countries.
Thus, both Ho Chi Minh City and Vientiane capital needed to continue develop the good friendship.