The Fatherland Front Committee of Ho Chi Minh City held a closing ceremony for the communication coordination program and campaign for 'For the
Spratly Islands' fund
on April 3.
The committee offered seven gifts, worth VND 5 million each, to returnee soldiers in Spratly Island and the DK 1 frame house, on this occasion.
Two city delegations visited officials and soldiers in Spratly Islands and the DK 1 frame house in 2013. The delegation gifted equipment worth VND 22 billion.
The delegation also collaborated with agencies and units to welcome outstanding soldiers of Spratly Islands and DK 1 frame house to visit HCMC last year. City delegation also provided a 29-seat car to Center for Training 456, Navy Region 4.
The city hosted free consultations and builds schools for children of soldiers and officials in Spratly Islands.
Agencies and units donated nearly VND 23 billion for the Spratly Islands Fund. Many media press agencies also held propaganda programs on the islands during 2013.
In related news, the Department of Propaganda and Training of the HCMC Party Committee visited Ha Giang Province starting from March 30 to April 2.
Head of the Department of Propaganda and Training of the HCMC Party Committee Than Thi Thu led officials and staff for the visit.
City leaders visited and gifted 100 impoverished families, revolutionary-martyr families, ethnic groups, students in poverty at Lung Cu Commune, and a commune of Dong Van District.
The delegation also visited and gifted to soldiers of border post of Lung Cu commune. The delegation laid wreaths and burnt incense at Vi Xuyen Martyrs Cemetery. There are 1,715 graves there.
The city delegation held a ceremony in Dong Van District to commemorate 200 martyrs on April 1.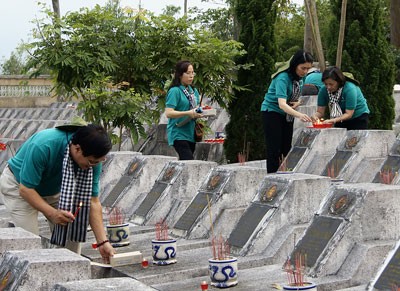 City leaders burn incenses at Vi Xuyen martyr cemetery (Photo:SGGP)