The images showing Cuban and Vietnamese engineers and workers working side by side at such big projects as the Ho Chi Minh Road, the Thu Thiem Bridge and the Trung Luong - Ho Chi Minh City Highway are vivid expression of faithful and fruitful relations between the two peoples, said Ms. Hoang Thi Khanh, Chairperson of the Viet Nam - Cuba Friendship Organization at the ceremony celebrating Cuban Hiron Victory in HCM City Friday.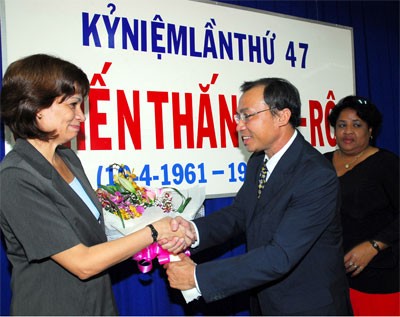 Mr. Hoang Van Khang, SGGP Deputy editor-in-chief offers flowers to Ms. Iliana Hernandez Portales, Cuban General Consul In HCM City at the meeting in SGGP headquartes on April 18, 2008
She affirmed that the people of Viet Nam always stand side by side with Cubans in their struggle to defend and build a prosperous Cuba.
On the same day, Sai Gon Giai Phong Newspaper also held the meeting commemorating Hiron Victory.

On behalf of SGGP staff, Mr. Hoang Van Khang , Deputy Editor-in-chief of the newspaper sent best regards and congratulation to Cuban people on the occasion of the 47th anniversary of Hiron Victory.
"Despite 47 years of the U.S embargo, the Cuban people has overcome many difficulties, achieved big successes in economy, health care, education, scientific researches and become illustrious revolutionary symbol for peace-loving peoples in the world" said Mr. Khang.
" We raise our voice to ask the U.S to end the embargo imposed on Cuba and free 5 Cuban soldiers who are detained in the U.S' prison because of fighting for Freedom of Cuban people" he added.
In April 1961, Americans made an attempt to invade Playa Hiron, but suffered a defeat and were thrown away from the island.