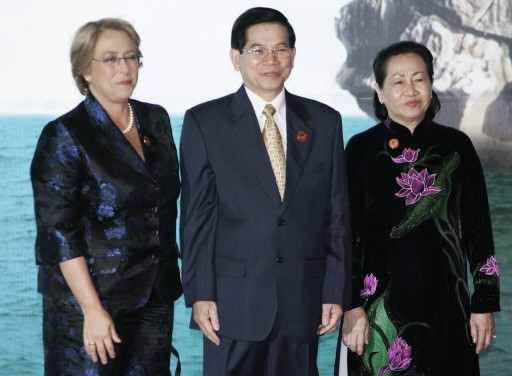 Chilean President Michelle Bachelet (L) is greeted by Vietnam's President Nguyen Minh Triet and wife Tran Thi Kim Chi (R)
Chilean President Michelle Bachelet Jeria expressed wishes that the friendship with Viet Nam, which has stood the test of time, will be ever-green, while meeting with members of friendship associations in Metropol Hotel, Ha Noi, on Nov. 19.
Viet Nam has set an example in struggling against foreign aggressors for national salvation which has won the Chilean people's great admiration, said the South American nation leader.
She emphasised that the two countries should now further tap their potential, particular in economics and commerce, for stronger bilateral cooperation.
President of the Viet Nam Union of Friendship Associations Vu Xuan Hong expressed the Vietnamese people's gratitude to the Chilean people for their strong support for Viet Nam's past independence struggle.
He said relations between the two countries, especially between social organisations, should further develop.
The President of the Viet Nam-Chile Friendship and Cooperation Association, Nguyen Duy Cuong, informed President Jeria of the association's contributions to the development of friendship between the two countries in the recent past.
He expressed his belief that the meeting with the Chilean President would strongly encourage the association to work effectively for peace and friendship between the two peoples.