Nguyen Duc Trong, deputy head of the Department of Livestock under the Ministry of Agriculture and Rural Development, on May 22 said that fear of H5N1 and H7N9 Avian Flu has caused a drastic price fall of industrial chicken and subsequently heavy losses to breeding farms and businesses.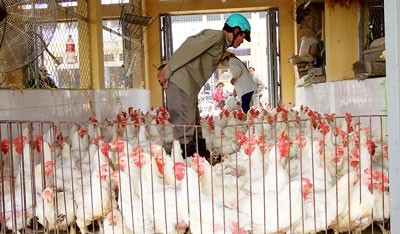 Price of white industrial chicken has drastically dropped causing heavy losses to several farms and businesses (Photo: SGGP)
The highest reduction has been on white chicken with price down to only VND18,000 a kilogram, causing a loss of VND15,000-20,000 a kilogram.
Price of red industrial chicken also decreased by 10-20 percent to fetch VND28,000-30,000 a kilogram now. Two weeks ago it was VND36,000-38,000 a kilogram.
According to Trong, there are many reasons for the price fall such as hot weather and economic difficulties. The main cause is actually fear of H7N9 and H5N1 flu virus.
Trong said that the H5N1 strain has been controlled while control of the H7N9 virus is now being tightened. As a result, consumers can safely consume chickens.
The Department of Livestock will propose to banks to reduce interest rates and extend debt payment deadlines for breeders and businesses so that they can resume breeding.
Low consumption
According to a survey by Saigon Giai Phong, the bird flu panic has resulted in low purchasing power in markets.
Nguyen Thi Tam, a poultry seller in Dich Vong wholesale market in Hanoi, said that the number of customers have fallen by half.
Several stalls selling poultry and roast chicken have shut down in the last one month in Ha Dong District.
Tran Thi Bich Thuy, a resident in Thanh Xuan District, said that after hearing of H7N9 virus killing several people in China, her family does not dare to eat chicken anymore. She said that it is very difficult to distinguish Vietnamese chicken from illicit poultry from China in markets.
The volume of chicken imported to Ha Vy, the largest chicken wholesale market in the northern region, has reduced by 40-50 percent.
The low consumption has led to prices plummeting in chicken farms in Hanoi.
Vu The Doan, owner of a farm in Chuong My District, said that he now has 3,000 white industrial chickens in stock, which he bred for a foreign company. However the company is also facing a price drop and he will have to seek another source.
Since early this year, the price has also drastically dropped in the southern region. Foreign companies who are investing in the breeding industry in Vietnam are suffering losses of VND30-60 billion (US$1.44-2.88 million) a month.
Nguyen Thanh Son, head of the National Institution of Animal Husbandry under the Ministry, said that white chicken is being bred by foreign invested companies like CP, Japha and Investco, who have ordered several farms across the country to breed chickens for them.
Some companies have announced that they might have to reduce breeding output by 50 percent. This will badly affect 1,500 breeding farms in the southeastern region.