People in the central region have built temporary dams in rivers to keep fresh water and hold back saltwater; applied new production models and drilled wells to take irrigation water among efforts to cope with months-long drought, salt intrusion and water scarcity.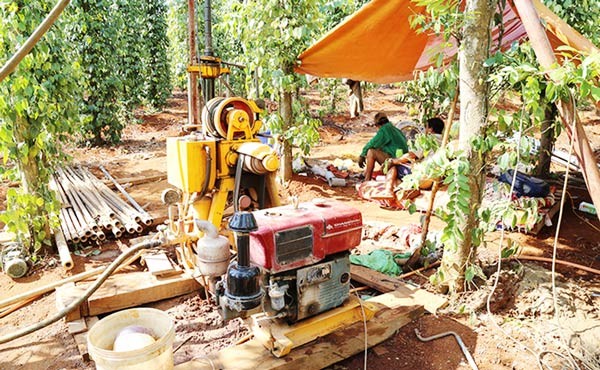 Well drilling to get irrigation water for pepper plants in Quang Tri province (Photo: SGGP)
It has not rained for the last four months in Thuong Trach commune, Bo Trach district, Quang Binh province, upsetting the lives of local people who are Ma Coong ethic minority group.
Chairman of the communal People's Committee Dinh Hop said that corn and rice crops had withered and local citizens had been seeking water for their daily activities and cattle. They have been unable to sow new crops because of no rain, putting 70 percent of the commune's population in the danger of food shortage from April to October.
In the meantime, farmers have attempted to ease salt intrusion and deal with diseases, pests and rats devastating winter spring rice in Quang Dien district, Thua Thien-Hue province. The provincial Cultivation and Plant Protection Department reported that rice blast disease has infected 845 hectares as of March 23, up 695 hectares over the same period last year.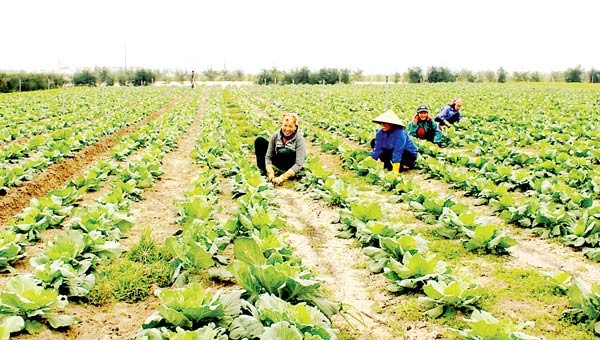 Green vegetable fields cover sandy soil areas in Ha Tinh province (Photo: SGGP)
The unusually long lasting heat wave has faded crops cross the central region. However infertile sandy soil areas in Thach Ha and Cam Xuyen districts, Ha Tinh province are now covered with the green of vegetable fields. Formerly, these coastal portions were long abandoned due to severe weather conditions.
The change has come in the wake of a project of vegetable farming in fallow land implemented by Ha Tinh Mineral and Trading Company and the provincial Department of Agriculture and Rural Development since 2013.

Head of the project Bui Quoc Hoan said that they had been successful after two months of implementation in the white sandy area where temperatures exceed 50 degrees Celsius some days. In the vegetable fields, there are holes with the capacity of 5,000 cubic meters each collecting underground waters to irrigate vegetables via a semiautomatic spaying system.

Some plants have brought high productivity, for instance a hectare provides 8-10 tons of carrot, 10-12 tons of tomatoes and 20-22 tons of turnip. Notably, asparagus plants can be harvested consecutively within ten years with the average output of 8-10 tons a year.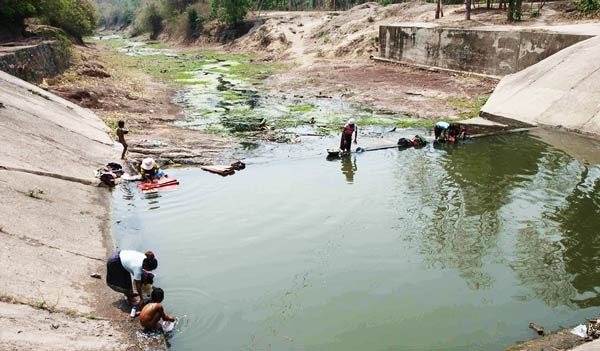 Over 200 households have no choice besides using alum water to take a bath and wash their clothes everyday in Nui Thanh district, Quang Nam province (Photo: SGGP)
Meantime, residents in Binh Son district, Quang Ngai province have built makeshift dams to keep fresh water in Tra Bong and Cap Gia rivers for farming production and daily lives and hold back saltwater.
Chairman of the district's Binh Duong commune People's Committee Do Minh Huan said that the dams were made from bamboo wattles and casuarinas stakes and bamboo trucks, forming two horizontal rows at 1.2-1.5 meters from each other. Sand bags were then put in the middle of the two rows to create the dams, which would be removed by August to prevent flooding in rainy season.
The dams have helped keep fresh water for 500 hectares of rice and vegetables in the commune and prevent wells from running depleted as they used to in previous years.
Quang Tri province has converted 1,000 hectares of rice into corn and green bean crops to adapt to water shortage. Besides, local farmers have drilled wells in areas unable to reach irrigation waters from canal system.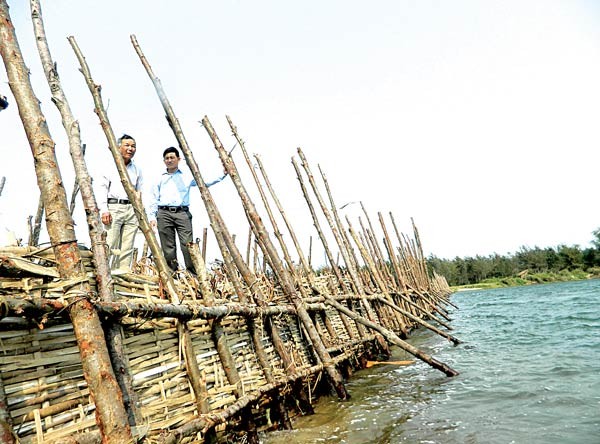 Temporary dams in Tra Bong river, Quang Ngai province (Photo: SGGP)