The northern parts of the central region are bracing themselves for floods which may occur at anytime during the next few months of the year.
Last year, Quang Binh, Ha Tinh, Nghe An and Thua Thien-Hue provinces suffered the worst ever floods causing huge damage to crops in each province.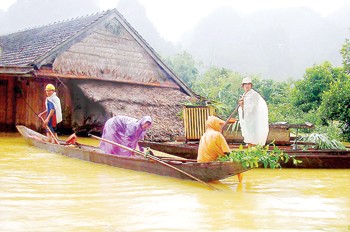 Highway 12A is regularly under floodwaters in Minh Hoa District of Quang Binh Province during the rainy season (Photo: SGGP)
Flood rescue village
Phan Van Gon, chairman of the People's Committee in Bo Trach District of Quang Binh Province says that local authorities have built the first flood rescue village of Vietnam in Khe Su Village of Hung Trach Commune.
Last year, floods inundated the entire commune with several areas submerging under nearly 20 meters of water.
The flood rescue village project is designed for 200 households to take shelter from the worst flood areas of Thanh Lam near Bung River. The 120 hectare village will cost nearly VND14 billion (US$667,000) upon completion.
The project will include a five kilometer road running through the village and each household will be granted 400 square meters of land for building homes and 3,500 square meters for agricultural production.
The only access road leading to the village of the Ruc ethnic minority group in Thuong Hoa Commune of Minh Hoa District is perpetually flooded for two months of the year each rainy season. As a result, the local armed force have proposed that the province ask the Ministry of National Defense for VND40 million (US$1.9 million) to build a new road.
Ha Tinh Province has also carried out measures to deal with floods this year and many flood rescue infrastructural works have been built for 40,000 people in 10 communes of Duc Tho District.
Around VND906 billion (US$43 million) will be spent to construct and upgrade 10 people committee centers, 59 flood rescue houses, seven schools and six health clinics and 20 motor boats will be equipped for search and rescue work.
The 40km flood rescue road, estimated to cost VND925 billion (US$440 million), will begin construction east of Huong Son District. Hundreds of other projects to cope with flooding have also been constructed in Vu Quang, Huong Son, Huong Khe, Duc Tho, Cam Xuyen and Can Loc districts.
Additionally, the provincial authorities have provided residents with knowledge to cope with storms and floods and have mobilized them to stock food, freshwater, medicine and other items in case they are isolated by floodwaters.
Measures have been taken to evacuate about 54,000 people from landslide prone areas and nearly 39,000 people from low-lying areas when floods deluge.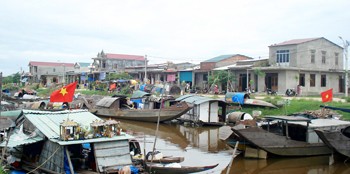 A resettlement area along Huong River in Thua Thien-Hue Province (Photo: SGGP)
A flood rescue house has been built by the Central Natural Disaster Relief Fund for people in Hung Nhan Commune of Hung Nguyen District in the neighboring province of Nghe An. The 800 square meter house, the first of its kind in the province can accommodate 250-450 people.
Armed forces on their part have worked with local authorities on measures to help residents during floods. Soldiers will be on alert 24/7 with necessary equipment like motor boats for rescue operations. They have already had practice rescue drills on large rivers like the Gianh and Nhat Le which experience heavy floods annually.
Vegetable cultivation on props
2,000 homes in Quang Thanh Commune of Quang Dien District in Thua Thien-Hue Province are regularly submerged under 0.5-1 meter of water when flood waters reach level 2 as they are located at the end of the Kim Doi River and on the banks of Tam Giang Lagoon.

From September to December annually there is a scarcity of vegetables in Quang Thanh as floodwaters rot the vegetables even though the area is the largest farming area in the northern central region.
Dao Xuan Cuong, chairman of the Farmer Association in the commune said that Hue University had chosen Quang Thanh for a pilot project to grow vegetables on props.
One-meter concrete or wooden pillars will support a corrugated iron sheet which will be covered with 25cm of soil to grow vegetables. A nylon roof will be stretched above to protect the elevated vegetable garden. The raised garden can also be used to cultivate saplings for post-flood farming.
Thua Thien-Hue authorities have stepped up projects to grow protective forests along the upper reaches of rivers and coastal areas. Relevant sides have worked hard to protect the forests to reach 60 percent of forest coverage in the province.