Thousands of households in Quang Ngai and Binh Dinh Provinces continue to be submerged under floodwater as unexpected heavy rains in the past two days caused water levels to rise in rivers.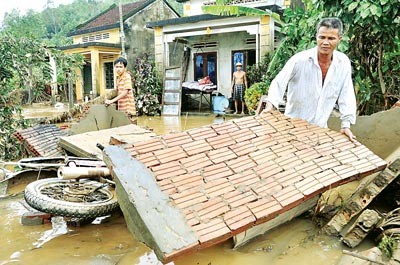 Floods destroy houses of residents in Hanh Thien Commune in Nghia Hanh District in Quang Ngai Province. (Photo: SGGP)
Provinces have made great effort to rescue local residents and provide food and water to households who were stranded for the past few days. Local authorities also visited and gave financial support to households whose relatives were killed in the floods. Preliminary statistics show that floods have killed 27 people and injured 16 others.
According to the Central and Central Highland Steering Committee for Flood and Storm Prevention and Control, by Sunday evening more than 50 lowland communes in the region were isolated by floodwaters.
Traffic at many places in the Central Region, especially on roads leading to mountainous districts in Quang Nam and Quang Ngai Provinces, remained at a standstill due to landslides.
Huynh Van Thang, Deputy Head of the Steering Committee for Flood and Storm Prevention and Control and for Search and Rescue in Da Nang City, said that floodwaters in the Central Region are slow in receding because hydro power plants have been releasing water. Currently, fifteen irrigation reservoirs were releasing water at 30-600 cubic meters of water per second.
On Sunday, Quang Ngai Province transferred instant noodles, water, and rice to grassroots people and continued to call for help from the community.
 
Flights from Quy Nhon City were suspended as the road that connects National Highway 1A to Phu Cat Airport was flooded. A section of National Highway 1A which passes An Nhon Town was under 1.2-1.4 meters of water. Floodwaters have damaged 200 tons of hybrid paddy seeds and 300 tons of purebred paddy seeds stored in the warehouse of the Seed Center.
 
Torrential heavy rains have caused landslides along National Highway 24 and Provincial Road 676, completely isolating Dak Tang, Mang But, Dak Ring, Dak Nen, Po E, and Ngoc Tem Communes.
By 5pm on Sunday, a 100 meter length and five meter width bypass was built to resolve traffic congestion on National Highway 24. A section of National Highway 24 on Violac Mountain Pass was blocked by a giant boulder and dynamite had to be used to clear the road.
Meanwhile, in Gia Lai Province the An Khe Mountain Pass also faced serious landslides.