Ha Tinh Province People's Committee August 19 organized an inauguration ceremony of the statue of ten  young female volunteers at the Dong Loc T-junction relic site, marking the 65th anniversary of the August Revolution.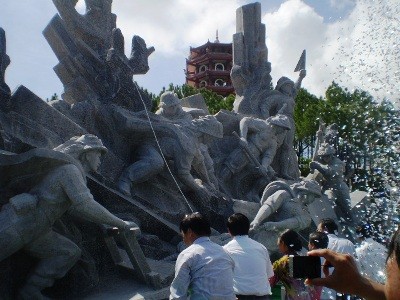 The statue of ten volunteer young females at Dong Loc T-junction relic site. (Photo: Dantri)
The project including statue, ground and a park is placed in front of the bell-tower and a temple at the Dong Loc T-junction relic site.
With a cost of VND14 billion (US$700,000), the project is donated by teachers and students from universities, junior colleges, individuals and organizations nationwide.

The intersection of provincial roads 5 and 15 in central province of Ha Tinh used to be the main junction of the supply road during the war against the United States. American aircrafts heavily bombarded the area in repeated efforts to destroy the junction. The less than 20km section of road underwent 2,057 air bombardments.

A unit of ten young female volunteers, aged 17 to 20, was assigned to keep the road open to traffic. Despite repeated heavy bombardments, they stayed at their post, using only shovels and hoes to level bomb craters.

They were all tragically killed during an air attack on July 24, 1968. A monument engraved with the names of the ten heroines was erected on a hill at the T-junction.