Farmers in the central provinces of Vietnam rarely enjoy bumper crops while making a livelihood by growing watermelons with more wrinkles being added to their faces after each watermelon crop passes.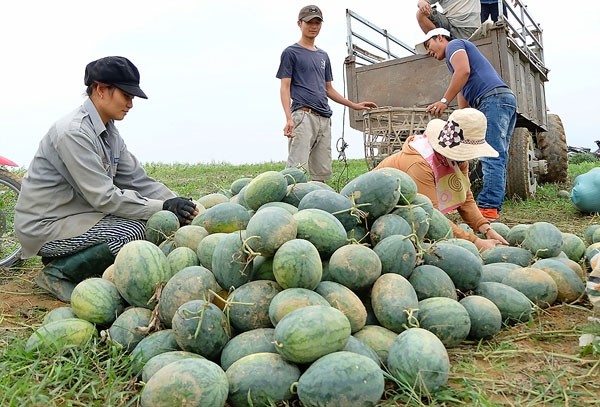 Ho Thi Thuy Truong (left) suffers a loss of VND150 million for growing watermelons. (Photo: SGGP)
Every year, when watermelons are ready for harvest, they usually end up by being jammed at Tan Thanh Border Gate in Lang Son Province to wait for customs clearance in order to export to China or being abandoned on the field until they are rotten because the price is so low that farmers do not want to harvest them.

Nguyen Cong Tri, a farmer in Duc Pho District of Quang Ngai Province, looked at his watermelon field of more than 2,000 square meters which was 3 days late for harvest, sadly shaking his head, saying that more than one third of his watermelons was ripe, though he gave traders many calls, none of them showed up.

In order not to waste his effort, he used watermelons as cattle-feed for his four cows which now have been fed up with watermelons.

Most farmers in Duc Pho District grew Hac My Nhan (Black Beauty) and Hac Long (Black Dragon) watermelons whose weight is about 3-4 kilogram each. According to farmers, the price of Hac My Nhan watermelons sometimes reached VND1,500 per kilogram. While as for Hac Long watermelons, both exporters and local traders refused to buy them, but did not reveal the reason.

Meanwhile, financial burden is weighing on farmers in Quang Nam Province who recently have experienced a tragedy in which all their watermelons were swept away by flood waters, leaving them penniless. They are struggling to find money to invest in the next crop and then pay for bank loans.

Watermelon cultivation has been a bit of a gamble for farmers for years. Many farmers expected that the price of watermelons would be VND5,000 per kilogram this crop. However, in reality, watermelon price was only at one tenth of expected price. Farmers usually have to put much money and effort into each watermelon crop but the result is to depend on the wheel of fortune.

According to Le Muon, deputy director of the Department of Agriculture and Rural Development of Quang Nam Province, planning for each kind of cultivars and seeking consumption for farm produce are kind of beyond provincial power as it involves several provinces that only ministry level is able to handle. The ministries of Agriculture and Rural Development and Industry and Trade should collaborate and do researches in order to present an appropriate planning.

During recent days, volunteers in Quang Nam and Quang Ngai provinces are helping farmers sell watermelons. Thanks to them, consumption of watermelons has been fostered.

Pham Truong Tho, vice chairman of the People's Committee of Quang Ngai Province, said that in order to help farmers, the province's Department of Industry and Trade will cooperate with supermarkets to purchase watermelons from farmers, especially from watermelon fields that are already ready for harvest. In addition, volunteers will help farmers consume and sell watermelons. In long term, the province will recommend farmers to grow unseasonable watermelons as price will be much higher.

According to Dao Minh Huong, deputy director of Quang Ngai Province's Department of Agriculture and Rural Development, the area of watermelons in the province is around 1,100 hectares with average productivity of about 27-28 tons per hectare. There are still around 81 hectares of watermelons about to ripe.

In recent years, many farmers have grown watermelons at high costs but local agriculture have not encouraged them to expand cultivation as the price fluctuates unexpectedly while consumption relies on China. Moreover, watermelons cannot keep long, thus, it becomes a huge disadvantage for farmers, Mr. Huong said.