Thousands of hectares worth of forest in the Central Highland provinces are dying for lack of water, while many lakes, dykes and streams run dry.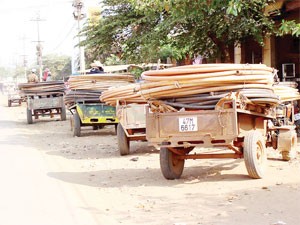 Farmers in the Central Highlands provinces use vehicles to transport water pipes to dry areas

Many long-running coffee, tea, and mulberry plantations are also in desperate need of water.

If it hasn't rained by March 20, the entire forested area in Lam Dong Province will be badly affected and a further 45,600 hectares of various plant species would also be at risk in Gia Lai Province if rain does not appear before the end of April.

Gia Lai has only 461 small and medium irrigation works with low capacity, thus a shortage of water in the dry season is inevitable.

Water levels in the Serepok and Krong Ana rivers in Dak Lak Province are also drying up, leaving over 2,500 hectares of rice paddies and coffee trees wanting for water.

Even 533 irrigation works and 440 reservoirs with a total capacity of over 400 million cubic meters are not enough to satisfy the province's needs.