Farmers in the Central Highlands are facing losses as recent unseasonal rains have reduced productivity. With a break in the rain farmers are unusually busy.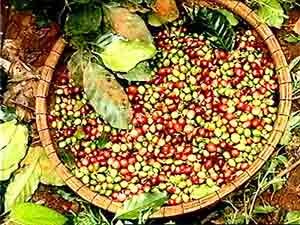 Due to thieves and high wages paid to hired pickers, farmers have to have their ripe and unripe berries picked at the same time
The Tet holidays are approaching but coffee growers in Di Linh District, Lam Dong province, are harvesting coffee instead of going shopping for the festival. Outside their houses, coffee beans are being dried on the grounds while white flowers are blooming on coffee trees.

It is an unusual view at this time of the year, farmers should be selling their coffee beans instead of drying them.

K'Hun, a coffee grower in Tan Chau Commune, said, "We were about to dry the beans when rain fell. We had to wait for sunny days to come again to dry the produce and we got low quality dried coffee seeds due to poor preservation on rainy days. We have no choice  but to sell the dried coffee seeds at half price."

Persistent out-of-season rains have also badly affected crops for the upcoming season. Nguyen Lich, a farmer of Da Don Commune, said, " Rains have caused coffee trees to burst into bloom weeks earlier in the winter while they have not yet absorbed sufficient nutrients for their growing cycle. This can be compared with a premature baby – very difficult to bring up."

Mr Lich predicted that the coming crop will suffer a reduction of some 30 percent.

Unseasonal rain is not the only problem that is affecting the quality and productivity in Central Highlands. Drying grounds and higher wages for hired pickers are other factors. Since many farmers do not have drying grounds large enough, they have to dry coffee beans in their gardens or on the sidewalks of streets.

A farmer lamented, "We suffered losses because some of the coffee had been stolen during the drying process. We couldn't keep an eye on it all day."

Coffee growers in Lam Dong used to have their coffee berries picked three times a crop. But now, due to thieves and high wages paid to pickers, they have to have their ripe and unripe berries picked at the same time.

The farmer said, "Harvesting coffee like this will no doubt reduce productivity significantly. It is also another factor, other than unusual rains, that causes coffee trees to bloom earlier. The earlier flowering will bring the harvest closer to the rainy season. And we will have little choice but to deal with the problems related to coffee drying and preservation again. What a vicious circle!"