The 26-year-old model, composer, singer and creative director at the Nguoi Mau (Model) Magazine, Nathan Lee Truc Lan spoke with SGGP to share some secrets about his life and the world of models.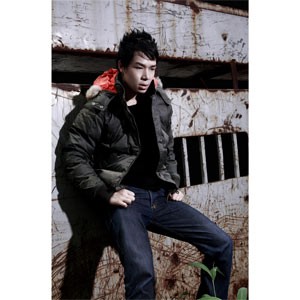 Lee in an ad for Calvin Klein(Photo Nathan Lee)


How did you become a model on the international catwalk?


I started my modeling career at 17. That was a tough time for Asian models to survive in Paris, and I'm not an exception. At the time, I was the sole Vietnamese model on the Paris catwalk. I'm so thankful to my mother's company, Click Model Management, since they always offered me various chances to develop my career and, the most important thing, they always believed in me.  
I had chances to work with various popular companies, newspapers and magazines not only in Paris but also at places like Future in Milan, Wilhemina in New York and Select in London. I also appeared on various advertisements and fashion shows like Rykiel Homme, Yohji Yamamoto, Issey Miyake, Stephan Schneider, Paul & Joe, Lanvin, Jean Paul Gaultier, Gas, Benetton, Gap, Givenchy and L'Oreal. 
I received good advice from my agent who got me the opportunity to work for one of the leading modeling companies, Elite Model Management 
An impressive record! So can you list the names of some magazines you have worked with?


Some of them are Numero Homme, L'Uomo Vogue, Upstreet, Wad, Esquire, Optimum, L'officiel, Miss Petra, Bazaar Italia and W.  
What do you think about our local modeling industry? How does is compare to the international modeling industry: professionalism, work intensity and competition?

The first thing I can recognize is that the fashion industry has developed very fast and the local models have many opportunities to prove themselves. In my opinion, we hardly compare the local modeling industry with the international one since our industry is still quite young.  
But, the most noticeable difference between the two is the opportunity to become a superstar. I realized that customers of the fashion houses are not really picky and many models easily become superstars if they catch their opportunities in time. Some of them when achieving glory even get some special treatment at work.  
But that seemly is not the case in the international modeling industry. For example, in Paris, if you want to be a good female model, you must satisfy some requirements like weighing less than 50kg, be a minimum of 1.78m in height and less than 90cm in hip size. They have to follow a strict diet regime and do exercises at least four hours a day to keep their bodies fit. They also have to obey all the commands and requirements by the customers even when some are crazy. They are definitely allowed to get special treatment, like photo shoots before noon or have their own make up and hair stylists. The models must remember that they are not the center of any fashion shows, only the costumes. 
Lee is always elegant (Photo: Truong Son)

Though only appearing in the local industry for less than a year, you have a very good reputation in the eyes of the press and audience. So would you like to share your fashion style?


For casual wear at home or hanging out with friends, I always choose sleeveless pull-overs and jeans while my choices for performing on stages usually are vests. I also choose some accessories to match with my vest to make it unique. About my fashion style, hmmm, I think it is elegant, romantic but simple and young. My advice for choosing clothes is that you should choose whichever makes you feel comfortable and confident, do not always follow the fashion trend.   
How about your diet? Any training?


When I have free time, I always go swimming. I do not follow any diets. I will a share a secret with you: I even eat twice or three times than a normal person but I do not get fat since my body can burn calories quite fast. I choose non-fat and sugar-free food. I love fruits and hate drinking and smoking.  
Vietnam saw various scandals in 2008, like Miss Vietnam 2008 pageant braking the regulations by the Ministry of Culture, Sports and Tourism, and Vietnam Idol 2008 faced criticism from audiences. And recently, the trio Thanh Bach, My Le and Thu Minh announced an offensive against 'Mot' ('Fashion') magazine since it listed them as the winner of 'Worst Dressed Artist of the Year'. What do you think about this? 


I think the title 'Worst Dressed' is really nonsense since it's not voted by the public but only by a small press group. Some international magazines also have some nominations like this but they will focus on some particular costumes which proves that the fashion style of the artist is bad. And the artists when receive this prize will somehow understand why they deserve it. But here, in this case, there is no proof, no particular costumes, no explanation, at least not till now.  
I don't know the criteria of this voting either. We always know that fashion trend is not always right to everyone and obviously fashion style is too. How can a fashion style satisfy all people? We understand that a fashion style can be perfect to some people but is bad taste to some others. We hardly say which one is right and which one is wrong. If a style fits someone, then it will go well with him, otherwise he can choose another style which fits him. 
First starting as a model, now you choose to turn at a crossroads to become a composer and professional singer. Is it too much for you, especially at such young age? And why did you decided to turn to these fields?


I've loved singing since I was very young and always believed that I  would become a singer. The modeling career was an unexpected chance for me but I did not lose any time doing it since I also believed that it would give me benefits and support me when I jumped into the field of singing. Now it's time for my music to see the light of this world. My passion drives me to make this dream come true.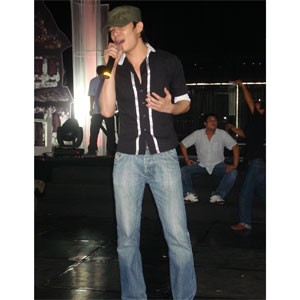 Lee rehearses for the SGGP charity concert 'Xuan Yeu Thuong' (Photo: Truong Son)

Can you talk a little bit about your music in your debut album? Anything exciting from this album that you want to share with us?


My debut album will follow the style of US pop, sometimes mixed with the Euro Pop. 80 percent of the songs in this album are composed by me and performed in three languages: Vietnamese, English and French. The others songs are Vietnamese non-stop hits which will be remixed by the foreign composers in Paris and New York. The most interesting thing is that these composers never heard Vietnamese songs before nor heard my voice. This will be an exciting challenge.  
The album will be released in March and I hope to receive much support and good comments from the audiences (laughs)