French contractor Technip installed a 515-ton catalytic cracking converter at Dung Quat Oil Refinery yesterday.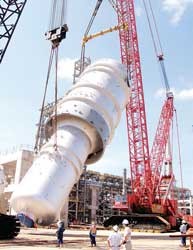 Catalytic cracking converter is installed at Dung Quat Oil Refinery yesterday
This most important piece of equipment, which was made by Hitachi Zosen Corporation of Japan, will process oil residue fluid after the main refining process to produce diesel fuel, FO oil and petrol.
To install the 30-meter cracking unit, Technip rented two cranes of 1,250 tons and 800 tons from Japan's Nippon Express and used 150 workers and foreign and local experts to lift it into position. The minor Vietnamese contractor Post Lilama was also involved.
By the end of August, Paris-based Technip had basically completed the equipment supply requirements of the EPC 1+4 and 2+3 tenders.
Construction of Dung Quat Oil Refinery in Quang Ngai province on the central coast began in June 2005.
Once it fires up, which is scheduled for February 2009, the refinery will be able to process 6.5 million tons of crude oil a year and meet a third of Viet Nam's gasoline, lubricant and petrochemical needs.