The cashew, coffee and pepper business brings prosperity to the Jorai ethnic minority in Gia Lai Province.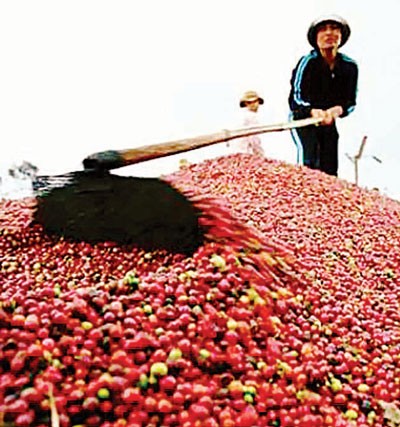 The cashew, coffee and pepper business brings prosperity to the Jorai ethnic minority in Gia Lai Province.(Photo:SGGP)
The once-impoverished Chan Village reverted to farming the crops five years ago. With immense profit from these miracle plants, they transformed dilapidated cottages into beautiful Thai-styled villas.
"I profit about VND 100 million a year selling just peppers", said villager Ksor Gan, 33. He also owns three hectares of cashew, two hectares of rubber, one hectares of cassava, and five acres of coffee.
His family will gain net profit of VND 700 million (US$33,215) from the crops.  With such a high income, the family was able to afford a VND 50 million (US$2,374) motorbike and spend VND 100 million (US$4,750) on furniture.
We must thank Company 75 implemented by the Plan because they taught us how to cultivate the special crops, said Brao from the Boong Village, Ia Duk Commune.
The village switched from growing rice and cassava to coffee, rubber and cashew. 
Brao now has 10 hectares of rubber, seven hectares of coffee and three hectares of cashew. His annual net profit is over VND 1 billion (US$47,440).  He was able to buy houses for his children before their wedding.
There are 135 families living in Boong Village. One-to-three people in each household works in the local rubber factory. The average worker earns VND 7 million each month. Each household gains an additional VND 100-200 million a year from farming coffee and cashews.
People in the village appreciate the soldiers in Company 75 who urged the switch, said village elder Ro Mah Chiu. They never believed they could earn large incomes.
The Nhon Hoa Commune currently owns 300 hectares of pepper. Twenty households in the commune have annual income over VND1 billion (US$47,440). Almost 50 households in Hoa An Village earn annual income of VND500 million (US$ 23,720).

The Government's New Rural Development Plan has played a major role in the success of the villages in Chu Se District. Under the Plan, government soldiers set up companies in rural areas to alleviate poverty. The aim of the plan is to upgrade agricultural techniques, improve farmers' lives and develop rural infrastructure.