In an effort to improve city roads and decrease traffic congestion, The Ministry of Transport has approved plans to establish the Road Maintenance Fund. Additional fees imposed on motorbikes and cars will fund the project.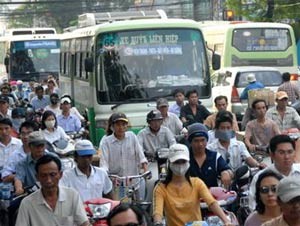 Traffic jams in Ho Chi Minh City.
Under the proposed plan, vehicles that use diesel fuel would pay monthly, according to the size and weight of their carloads. The new operating fees will cost drivers between VND180,000 ($9.5) and VND 1,440,000 ($76) per month.
Car and motorbike drivers can expect to pay about VND 1,000 more per liter of gasoline, once the program starts.
The new fees imposed on motorbikes and cars is expected to reach VND 2,971 billion (US$156 million), the equivalent of 2,971,000,000 liters of gasoline. Fees for diesel vehicles is expected to reach VND 2,958 billion ($155 million) per year.
Under the proposal, gasoline companies will collect the fees, and then return the funds to the Road Maintenance Fund within the State Treasury.
The ministry will use the funds to make improvements to the roadways that aim to reduce traffic congestion in future.