According to the Department of Natural Resources and Environment in the central province of Quang Ngai, a Panama-flagged cargo ship 'Bright Royal' hit corals off the coast which caused around 2,000 liters of oil to spill into the sea across a six kilometer radius.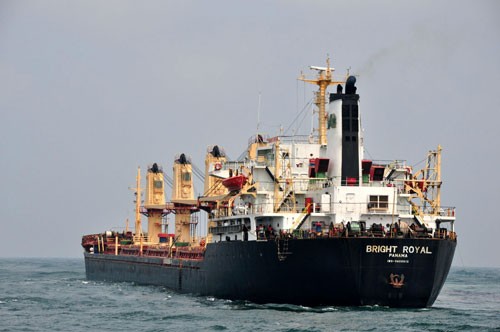 The Panama-flagged cargo ship 'Bright Royal' (Photo: Thanh Nien)
The Panama-flagged cargo ship 'Bright Royal' ran aground nine nautical miles off Ly Son District of Quang Ngai Province on October 4, while carrying nearly 27,500 tons of clinker from Vung Ang Port in Ha Tinh Province to Bangladesh.

Border patrol from Quang Ngai Province sent border guards to the cargo ship and rescued all 24 crew members. Border authorities said the foreign vessel had gone adrift and into the line of local ships.

Oil was leaking from the stranded 'Bright Royal' off Ly Son Island and oil continued to spread over the sea surface.
The ship owner has hired the Hi-Tram Rescue Company in Da Nang to tackle the oil spill from the ship.

Phan Van Kham, Deputy Director of the National Center for Oil Spill Response, said after studying the oil spill they would discuss the best measures to avoid and minimize environment pollution to the sea.