Cargill Vietnam has received the first Vietnamese UTZ Certification for cocoa beans at a ceremony at the cocoa buying station in Chau Thanh District in Ben Tre province.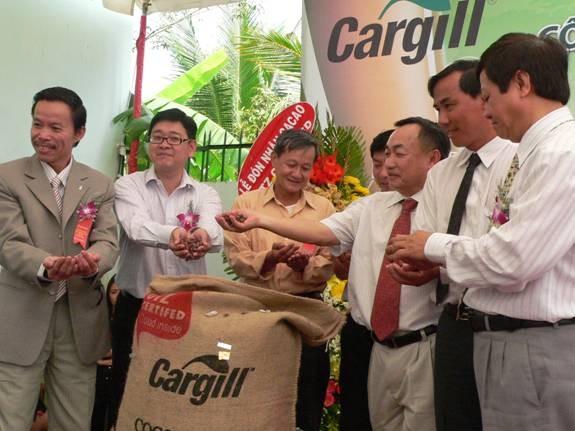 Representatives from Cargill Vietnam at the ceremony.
Harold Poelma, managing director of Cargill Cocoa & Chocolate Company, claimed that the delivery of the first UTZ Certification for beans produced in Vietnam was an important milestone in Vietnam's development as a producer of high quality cocoa beans and in particular of certified sustainable beans.
The first three certified cooperatives of Duc Lap Coffee Company, Thanh Dat and October Coffee Company have received the UTZ certification for cocoa in Vietnam after six months of training on the UTZ Certified Code of Conduct for the Cocoa program.
According to Poelma, Cargill is looking forward to the certification of more cooperatives in Vietnam, which will enable them to scale up the production of sustainable cocoa in the years ahead and increase the choice that the company can offer customers. He thought that Vietnamese farmers have proven they are hard working, willing to learn and very productive, which is a clear indication that the country could be successful in capturing the cocoa market. 
Although Vietnam is not a traditional cocoa producing country, the company recognised its potential to grow a good crop as both the climate and soil conditions were favourable.
With a total area of 15,000 hectares, Cocoa production this year is expected to reach 2,500 tons, focused in key provinces of Ben Tre, Dak Lak, Dac Nong and Ba Ria in Vung Tau.

The UTZ Certification certifies that agricultural products are acceptable standards in quality.

The UTZ certificate program for Vietnamese cocoa products has been carried out since July 2010 in collaboration with 5 Vietnamese business houses.

So far three of them, namely; the Coffee – Cocoa Company in Dac Nong Province, the Thang Muoi Coffee – Cocoa Company in Dak Lak Province and the Thanh Dat Cocoa Company in Ba Ria-Vung Tau Province have been presented with the certificate.