Taking care of the future of Agent Orange/dioxin children victims was the responsibility of the Party, State and the entire society, said President Nguyen Minh Triet.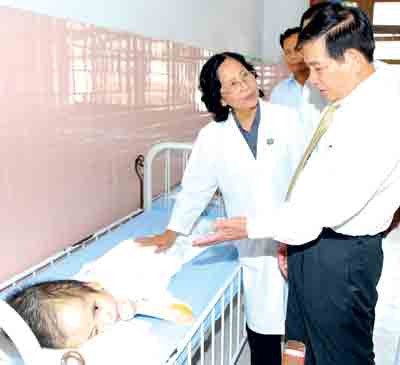 President Triet in his visit to the Peace Village of the Tu Du Hospital in Ho Chi Minh City on July 8
President Triet made the statement during his visit to the Peace Village of the Tu Du Hospital in Ho Chi Minh City on July 8.
Among 13 villages nationwide caring for AO victims, it is now home to 60 victims, from newborn babies to older children, while providing education and treatment to more than 100 others.
AO victims suffered from the impacts of the war, said Triet, affirming that this was a crime of imperialists and justice was needed for AO victims.
The struggle had received worldwide support from progressive US people, said the President.
President Triet said he hoped AO children victims at the village would continue to overcome difficulties and diseases to study, work and integrate into the community.
He took the occasion to highlight the efforts of the village and the hospital.
In his meeting with the Tu Du Hospital's key cadres, he said he was happy at the constant development and professional progress and commended the hospital on its self-supporting financial situation.
He spoke highly of the hospital's outstanding activities, including in vitro fertilisation and assisting provincial hospitals in the training of midwives for the Central Highlands.
He proposed the hospital invest in further facilities, cadres training, access the world's most advanced technology and boost activities to care for people's health, to deserve to be one of the country's leading hospitals.