Residents of Quang Tri Central Province recently discovered numerous cannon balls from the French occupation around Quang Tri ancient citadel, said Le Duc Tho, deputy director of Quang Tri Museum on July 17.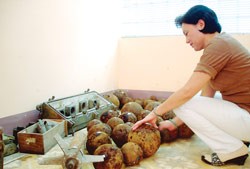 Quang Tri Museum buys more than 100 cannon balls from residents to put on show. (Photo: SGGP)
The cannon balls are made from cast iron in 19th century.
The museum bought more than 100 cannon balls to put on show.
Mr Tho said residents also discovered many other cannon balls scattered in various areas around the province, but the museum has not been unable to buy them for research and display due to a lack of money.

In the beginning of the month, a resident from Binh Son District, central Quang Ngai Province, fished out 960 cannon balls, the largest volume ever collected in the province, according to the province's Department for Culture, Sports and Tourism.

The resident plans to sell all the projectiles to the provincial museum for display and preservation for VND40-50 million (US$2,240-2,800).

However, due to the lack of money, the museum has been unable to buy them.