Markets across the country are expecting to see a rise in the price of moon cakes, with a month still to go for the mid-autumn Moon Festival.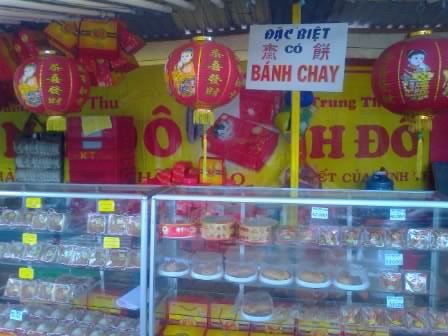 A moon cake shop in Hong Bang Street (Photo: Thanh Ha)
Phan Van Thien, director of Bibica Corporation, the biggest candy manufacturer in Vietnam, says cake prices will certainly soar this year by 10-20 percent as against the same period last year.
Many new products by confectioneries such as Kinh Do, Bibica, Dong Khanh, Ai Hue and Hy Lam Mon have been introduced in the market. Le Van Thinh, deputy head of Kinh Do, says that their products will cost more by 10-20 percent but they plan to induct a free home delivery service.
Confectioneries blamed the rise of cake prices to the increase in prices of basic raw ingredients which have shot up to over 30 percent. Chinese traders have ruined the market by buying up stocks of raw ingredients, creating a shortage in the market. Large quantities of salted duck eggs, coconut and pork have been bought up by the Chinese traders for the last many months.
This shortage of ingredients resulted in prices sky rocketing, like salted duck eggs that were VND23, 000 now cost VND35, 000. Confectioneries in Vietnam spend much in making moon cakes with quality and expensive ingredients such as bird's nest, spirulina platensis (a simple one-cell microscopic blue-green algae), red frog crab and roasted pork. The expensive moon cakes are so exorbitantly costly that only rich Vietnamese or foreigners can buy them.
The traditional Vietnamese mid-autumn Moon Festival is an important festival for children, who celebrate it by parading their colorful star or animal shaped lanterns, eat moon cake and watch pantomime lion dances.