Measures to speed up the tempo of major projects, ease traffic jams and prevent flooding in Ho Chi Minh City topped the agenda of a working session between the cabinet and the city's leaders on March 15.
Under the chairmanship of Prime Minister Nguyen Tan Dung, participants discussed a range of special mechanisms aimed at mobilizing investments to support HCM City's efforts to reduce traffic congestion and flooding, such as international bonds, foreign loans, public-private partnerships and the transfer of land use rights.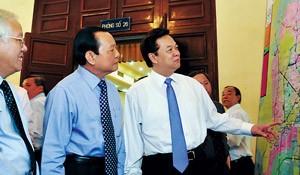 (R-L) Prime Minister Nguyen Tan Dung, HCM City Party chief Le Thanh Hai, HCM City chairman Le Hoang Quan look at a traffic network map of the city on Mar. 15 (Photo: SGGP)
Leaders of relevant ministries and sectors suggested that the city authorities carry out comprehensive solutions, from the deployment of detailed planning and control of individual vehicles, to administrative fines and improved public awareness.
Sharing this view, PM Dung asked HCM City to re-examine its urban traffic planning, ensure the progress of ongoing traffic projects and make resources available for more such projects in the future.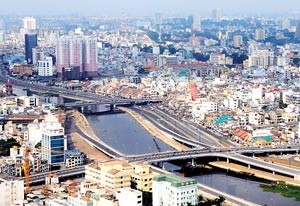 East-West Blvd. now in use in Ho Chi Minh City (Photo: SGGP)
The city also needs to build and complete its urban management regulations, including those related to the construction of traffic systems, coach stations and punishment of violators, he said.
The PM entrusted the Finance Ministry to work with the HCM City People's Committee to build and submit to the government for approval specific financial mechanisms to ensure the effective implementation of projects.