Climate change has worsened coastal landslide and erosion in the southernmost province of Ca Mau, where many dyke sections have been slipped into the sea. Local authorities thus have sped up afforestation projects to prevent these breaches from enlarging.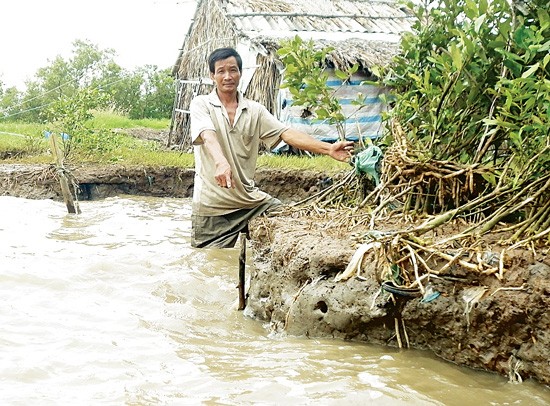 Coastal erosion has more and more narrowed Ca Mau province's area in recent years (Photo: SGGP)
Ca Mau has three sea-facing sides with a total length of 254 kilometers, accounting for one third of the Mekong Delta's beach.
Erosion has quickly occurred and narrowed protection forest area along coastal areas in recent years. Among the worst hit are estuaries in the western sea dyke of the province.

"Landslide has approached closely to my house and I don't know where to move in now," said Tran Anh Le living near Cai Cam estuary.
Similar condition has also tormented those in the eastern side of the province. Tran Van Tu settling near Ganh Hao estuary in Dam Doi District said that coastal landslide has forced many people to continuously evacuate for the last five years.
A survey by the province's Irrigation Department shows that about 40 kilometers along the seaside are suffering dangerous landslide. The most vulnerable spots comprise Ganh Hao estuary, Khai Long area, western sea dyke and Ca Mau cape areas.

Provincial authorities have launched a pilot project to build 300 meters of stone embankment under seawater in the western sea dyke, U Minh District since 2010, said the department's head Nguyen Long Hoai.
Embankment construction has been combined with afforestation to brake erosion and mend burst sea dyke sections. It holds back waves and permit seawater to bring silt deposit through to create alluvial grounds for afforestation.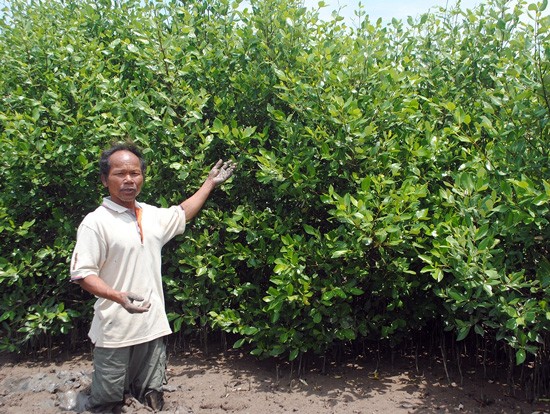 Ca Mau has stepped up afforestation to limit seaside landslide (Photo: SGGP)
The province has continued building such stone embankments along 10 kilometers of most vulnerable areas in the western and eastern sea dykes.
Mr. Hoai said that they are seeking to reduce construction costs by using mangroves or bamboos to replace stones.
According to a climate change scenario by the Ministry of Natural Resources and Environment, Ca Mau will be one of the hardest hit provinces. If sea level is estimated to rise 25 centimeters by 2040, over 4,693 square kilometers of land will be flooded under 1-1.2 meters of seawater, accounting for 85 percent of the province's natural area.