Brazilian President Luiz Inacio Lula Da Silva held talks with Vietnamese President Nguyen Minh Triet, Prime Minister Nguyen Tan Dung and was received by Communist Party of Vietnam General Secretary Nong Duc Manh on the afternoon of July 10.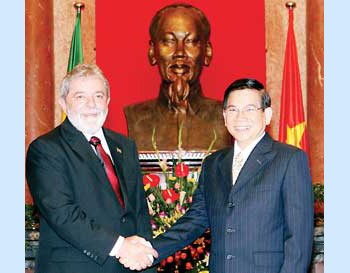 VIetnamese President Nguyen Minh Triet shakes hand with Brazilian President Luiz Inacio Lula Da Silva during the receiption ceremony
After the red carpet ceremony in Ha Noi on Thursday, Vietnamese President Nguyen Minh Triet held talks with In the talks with President Da Silva, who is on an official visit to Viet Nam, PM Dung said economic and commercial relations between the two countries remain modest despite an eight-fold increase over the past five years.
"Economic and commercial relations have not yet matched the two countries' potential, so greater efforts should be made to boost bilateral cooperation in agriculture, processing industry, bio-technology and energy," Dung said.
He pointed to the necessity for both sides to deploy freshly-signed agreements, especially the one on establishing a joint governmental committee, as soon as possible in order to boost commercial and investment relations.
PM Dung promised to send more administration delegations and business missions to Brazil to survey projects of cooperation. He also assured Brazilian businesses of favourable conditions for long-term investment in Viet Nam
" Viet Nam seeks Brazil 's experiences in coffee growing and processing and bio-energy," Dung said.
In a meeting with CPV General Secretary Nong Duc Manh, President Da Silva expressed his admiration at Viet Nam 's great renewal achievements.
"The Brazilian Government is determined to develop friendship, solidarity and multi-faceted cooperation with Viet Nam ," Da Silva pledged, after praising the outcome of a Brazil visit in May 2007 by CPV General Secretary Manh.
In reply, Party General Secretary Manh warmly welcomed President Da Silva of Brazil , describing his visit as an important contribution to the friendship and cooperation between the two countries.
"Viet Nam respects the friendship, solidarity and multi-faceted cooperation with Brazil in the interest of the two peoples and for the sake of peace, national independence, democracy and social progress in the two regions and the world as a whole," Manh said.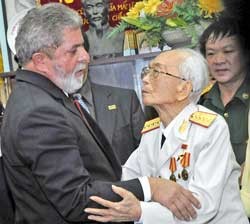 General Giap (R) warmly welcomes Brazilian President Luiz Inacio Lula Da Silva
Later the same day, the Brazilian president visited the legendary 97-year-old General Vo Nguyen Giap at his house in Ha Noi.
The president said he very much admired General Giap's ingenious military strategies in the fight for national liberation. The Vietnamese victory during the two wars serves as symbol of revolutionary heroism for freedom of which Viet Nam is a pioneer, added the Brazilian leader.
Despite geographic distance, the two countries have been maintaining good relations and will further share experiences in poverty reduction and socio-economic development.
For General Giap, he said the two nations were once dominated by colonialism and similarly with their heroic spirits for freedom, the two peoples stood up to fight for their own freedom in a progressive way.
General Giap, the architect of Viet Nam's victory over the French colonialists in the resounding Dien Bien Phu battle, mentioned Brazil's support towards Viet Nam during its difficult years fighting for national freedom.
Mr. Giap wished Brazil would maintain its position in Latin America and the world and wished for a developing bilateral relationship.