Rescue teams recovered two bodies of the four missing fishermen from boat belonging to Nguyen Thanh The from Phu Cat District in Binh Dinh Province on Tuesday, according to the Steering Committee for Flood and Storm Prevention in Ninh Thuan Province.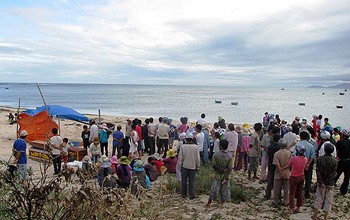 Local residents await missing fishermen in central region (Photo: Thanh Nien)
The two bodies were identified as that of the boat's owner Nguyen Thanh The and crew member Nguyen Thanh Tho.
Giant waves sunk the boat as it was anchoring at Ninh Chu Port in Ninh Thuan Province on February 18.
Border army forces are moving two more bodies to shore, but have not yet identified them.
There is still no contact with the fishing boat belonging to Tran Niem Manh from Quy Nhon town of Binh Dinh Province with 11 crew members on board, after four days since it went missing.
Related articles:
More fishing boats in distress in rough weather
Tens of fishermen rescued from rough sea in central region