Local authorities in the central region are short of A/H5N1 virus vaccinations against the bird flu epidemic.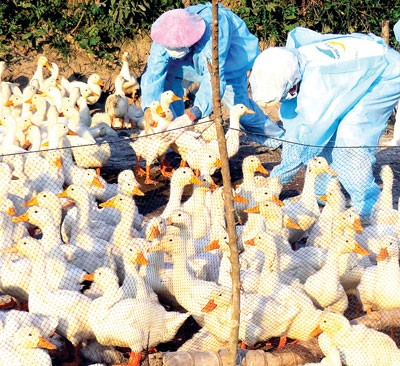 Veterinarians vaccinate ducks against A/H5N1 virus in Duc Pho District, Quang Ngai Province (Photo: SGGP)
The epidemic has reached Pho Cuong, Pho Hoa, Pho Van and Pho Vinh communes in Duc Pho District, Quang Ngai Province since the Tet holidays.
The first outbreak occurred at Tran Ngoc Lien's farm in Pho Cuong Commune where 700 dead ducks were tested positive for the virus on February 4.  Lien bred 1,865 ducks that were 35 days old and weighed two kilograms each. The loss of poultry caused more than VND 100 million (US$4,742) in damages.
Le Van Hieu's farm in the commune experienced a loss of 1,000 ducks. A week after the outbreak, an additional 1,200 chickens in Pho Van were found dead.
One hundred eight vaccinated ducks died from the virus in Pho Cuong Commune on February 19.
The virus has also spread to Son Tinh and Nghia Hanh Districts. Nearly 2,200 chickens have been found dead or disposed of due to infection in the province.
A flock of 3,200 ducks in Trieu Do Commune, Thieu Phong District, Quang Tri Province experienced infections in mid-February. The owner of the flock, Truong Ngai, is currently working with local authorities to dispose of infected duck.
Breeding poultry is the main subsistence of local people in Trieu Do Commune. They have about 12,000 ducks and chicken.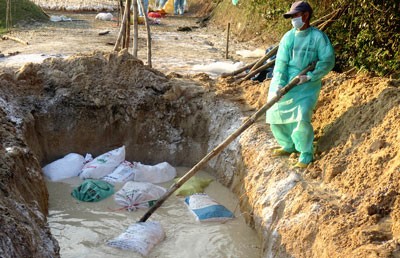 Virus infected fowls are buried in Duc Pho (Photo: SGGP)
We have sterilized infected areas to prevent further outbreaks, said Ho Van Hong, deputy chairman of the People's Committee in Trieu Do Commune. They also ordered farmer to halt slaughtering and transporting ill poultry.
The most vulnerable area is Quang Tri because it is located on the East West Economic Corridor with Lao Bao International Border Gate, La Lay National Border Gate, National Highway 1A and Highway 9.
The province has enough resources to vaccinate only 65,000 out of 1.8 million poultry.