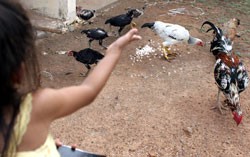 Raising poultry in backyard farms is one of the highest risks of bird flu outbreaks (AFP Photo)
"The thing Viet Nam is pushing for is restructuring its poultry sector, moving live bird markets out of cities, building new facilities and slaughter houses," said Fabio Friscia of the UN Food and Agriculture Organisation.
"They also want to upgrade their veterinary and human health services."
Experts from the World Bank, World Health Organisation, UN Development Programme, FAO, Asian Development Bank and EU and New Zealand aid agencies were taking part in the two-week mission that started Monday, he said.
Viet Nam has suffered 42 human bird flu deaths, the largest toll in the world, but has curtailed the disease for now with culls, market closures and large-scale vaccination campaigns, recording no new infections in the past four months.
The country is now working on an action plan believed to be worth at least 250 million dollars to strengthen surveillance and human and veterinary health services, which will be co-financed by Viet Nam and donors.
Around eight million Vietnammese now raise poultry in backyard farms, where the risk of outbreaks is highest, said Friscia, who added that the country plans to reduce the number of such informal farms to five million within a decade.
"There is concern for the future of poor backyard farmers and small commercial farmers," said Friscia, the FAO's bird flu programme officer in Viet Nam.
"A lot of them will have to leave the sector with significant economic losses. The challenge is to provide these people with alternative livelihood opportunities."
Source: AFP