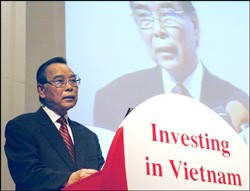 Prime Minister Phan Van Khai
Prime Minister Phan Van Khai sent a memo on April 13, 2006, to the Ministers, Chairmen of local People's Committees, Chairmen and General Managers of corporations.
In the memo, he stressed that despite the economic growth rate of 7.2 percent in Q1, 2006, some problems, such as corruptions, particularly the PMU18 case, and social evils cause much public anger.
In order to achieve the economic growth rate of 8 percent in 2006, the Prime Minister requested authorities at all levels to cut down on spending, to create more favorable conditions for investors, and to keep the market prices under control.
In addition, authorities at all levels have to maintain sound management of investment capitals and of State's budget spending.
They also have to strictly supervise progresses of investment projects, especially the big projects to ensure quality and timely completion.