Tam Dao Bear Rescue Station, Viet Nam's first international standard bear isolation and rescue station, began operation Monday at Tam Dao National Park in the northern province of Vinh Phuc.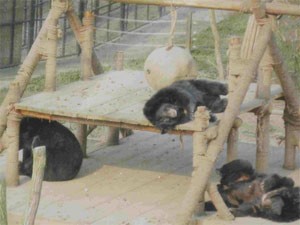 Three of the first bears staying at the center

The station, a part of the Bear Rescue Center, covers 1,300 square meters and cost a total of VND10 billion (US$625,000). It is sponsored by the Forest Protection Department, the Tam Dao National Park and the Animals Asia Foundation (AAF).

The entire center will cover an area of 1.3 hectares and receive a budget of US$3 million. It will provide shelter to bears that are saved from hunters and wildlife traffickers and will help fight illegal bear hunting.

After receiving treatment at the center, the animals will then be transferred to an area resembling their natural habitat.

In its first phase, the center will be able to accommodate 100 bears. It will then be expanded so it can receive up to 200 more bears. There are currently six bears staying at the center.

Viet Nam has only 100 bears left in the wild, according to AAF. Over 4,000 bears are being raised on farms for gall extraction. Bears can live as long as 30 years in the wild. But in captivity, they survive only 5 - 10 years due to malnutrition and infection.