About 500 employees of the Bach Tuyet Cotton Corporation plan a wildcat strike against Gia Dinh Textile and Garment Company, a major shareholder of Bach Tuyet, as this company refused to allow Bach Tuyet issue shares to raise more capital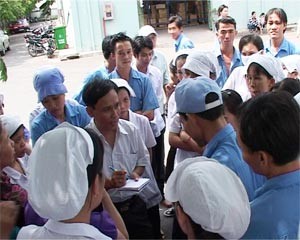 Workers continue to plan another strike
The workers worried that this decision would make things worse as the production division lacks the funds to buy materials. As a result, more workers will probably be laid off, they noted.
At a shareholder's meeting on July 14, the major shareholder, the state-owned Gia Dinh Textile and Garment Company, refuse to allow the company to raise capital by issuing more shares.
Though the income statement for the first six months of this year shows that Bach Tuyet earned VND4 billion (US$235,290) and there are signals that strategic shareholders would like to purchase the shares, Gia Dinh does not believe this plan will work and has demanded that the Board of Managers be replaced.
A Sai Gon Giai Phong reporter received information that Bach Tuyet suffered losses from 2003 to 2007.