The role of authorities is being questioned after imported agricultural produce containing harmful substances, and of poor quality such as bad meat and other unsafe food items are flooding the domestic market, proving to be a health hazard for consumers.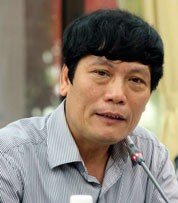 Nguyen Xuan Hong, head of the Plant Protection Department under the Ministry of Agriculture and Rural Development. (Photo: SGGP)
Nguyen Xuan Hong, head of the Plant Protection Department under the Ministry of Agriculture and Rural Development, said that fruits and vegetables imported from China are always checked carefully and frequently, and not just whenever a food scare is reported. But, if a threat is detected the authorities step up inspections.
Every batch of agricultural produce imported to Vietnam is checked thoroughly and samples taken at border gates so as to prevent contamination and ensure food safety. However, as it is not affordable to build laboratories at border gates, samples are sent to laboratories in Hanoi and Ho Chi Minh City for analysis. Meanwhile, agricultural imports are cleared for entry into Vietnam to reduce risks to import firms.
However, if any analysis test shows harmful chemical residues, for instance in a recent case of fresh grapes and potatoes, then that product and importer will be black listed and further scrutinized. Accordingly, samples of 10 percent of the total batch will be tested and the entire batch kept on hold until tests show positive results. If tests fail, the batch will be sent back to the import company whose license will also be revoked.
According to Mr. Hong, authorities not only have to carefully check vegetables, fruits, and farm produce but also check for plant protection drugs which are mainly imported from China. If 4-5 percent of a farm produce batch fails to meet standards, it is sent back to the importer. For instance, in 2011, Vietnam had to send back more than 50,000 tons of corn and soy-bean to India because of threat of the Khapra beetle. This year also, Vietnam sent back more than 20,000 tons of corn and soy-bean for the same reason.
Latest statistics show that in the first six months of this year, authorities discovered 60 percent of apples and pears imported from China still contained plant protection drug residues but were below harmful levels. Results from our laboratories are trustworthy as they meet ISO standards, affirmed Mr. Hong.
Recently, domestically-grown vegetables and fruits also raised consumer concerns about harmful chemicals to foster rapid growth of plants, or to preserve farm produce. Mr. Hong said that unsafe foods and harmful chemicals in Vietnam and foreign countries are not used on a large scale, but here is a case of 'one rotten apple spoils the whole barrel'.
Every year, Vietnam exports vegetables and fruits to countries all over the world. Last year, vegetables and fruit exports reached US$18 billion, of which mangoes, dragon fruits, grapefruits, and vegetables were exported to the EU market. Though EU warned of Vietnamese vegetables, it was for fear of an epidemic, not because of food sanitation.
EU has announced that there were around 4-5 percent of unsafe farm produce in their markets; China admitted to 5-6 percent; Thailand was at around 10 percent; while Vietnam announced a proportion of 7-8 percent.
The fact that consumers raised their concern for food safety is a positive sign. However, they should not be overanxious as food safety watchdogs are increasing inspection and control on both imported and domestically-grown foods.
Mr. Hong said that this problem even happens in developed countries and their governments recommend that consumers buy foods at reliable groceries where farm produce are sold with clear markings. Secondly, consumers should buy foods that do not need many plant protection drugs during cultivation. For example, the US government listed 12 of the riskiest foods, such as apples, pears, grapes, and cherry; and 15 of the safest foods to eat. Thirdly, consumers should attach great importance to preliminary processing of foods, to protect themselves.
Authorities have been struggling to ensure food safety, however, a shortage of human resources as well as poor infrastructure prevents them from doing their best, Mr. Hong added.