This morning, Deputy PM Dung chaired online meeting at the national steering committee for natural disaster of prevention & control with the provinces, cities cross over the country and asked them to prepare necessary measures to deal with upcoming typhoon.

Director Hoang Duc Cuong from the national center for Hydro meteorological forecasting said the center warned today tropical low-pressure would develop into a storm and the storm will move slowly then gain strength later on.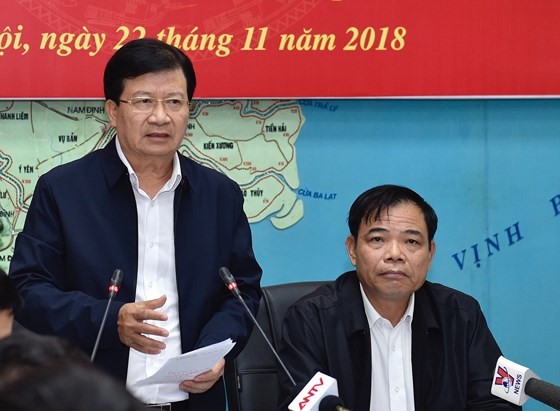 Deputy PM Trinh Dinh Dung asks authorities to cope with upcoming typhoon
The center said November 24 and 25 the typhoon will make landfall in the provinces from Khanh Hoa to Binh Thuan with the strongest wind speed at level 9-10.
From November 24 to 26, the north & central highlands, south central and southern region will experience heavy rains at 100 to 200mm while the provinces from Danang to Binh Thuan will see torrential rains. The rainfall will be from 300 to 500mm and even up to 600mm.
Deputy PM Dung asked functional units and related agencies to re-check evacuation measures in low-lying areas along coastal to prevent & control the disaster; to cooperate with local authorities to check the dyke system and construction work.
"Local authorities must prepare plans for coping with the typhoon ensuring safety for local residents and their property", added Deputy PM Dung.