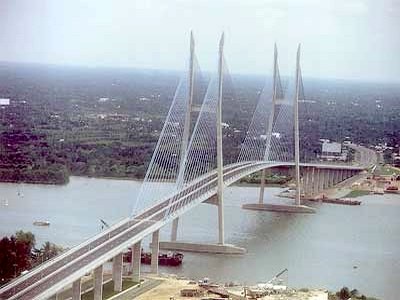 (File photo) My Thuan Bridge over the Tien River in the Mekong Delta, which opened to traffic in 2000, was built with Australia's official development assistance.
The Australian Government will provide an estimated A$119.8 million (about VND1,500 billion) in development assistance to Vietnam in the July 2010 to June 2011 period, the Australian Embassy in Hanoi announced Thursday.
Australia's commitment to Vietnam underscores a long running contribution to Vietnam's development aspirations and progress towards the Millennium Development Goals, according to the embassy's Thursday statement.
It said Australian aid will assist Vietnam's objectives to improve human resources, infrastructure and institutional development.
Australian scholarships are a high priority for the program and will continue to scale-up to meet Prime Minister Kevin Rudd's commitment to provide 225 post-graduate scholarships per year as announced in September 2009 during General Secretary Nong Duc Manh's visit to Australia.
The Australian Government will likely provide more than 50 additional scholarships under other programs, bringing the projected total to more than 275, the statement said.
It added Australia remains committed to sustainable and inclusive economic growth in Vietnam and the region more broadly and will continue to assist Vietnam to make the most of the opportunities presented by integration into the world economy.
Through ongoing infrastructure initiatives, Australia will provide A$32.6 million to support major transport projects and regional road building to connect poor rural areas to key regional transport and economic corridors, according to the announcement.
Australia's support will focus on contributions for the development of the Central Mekong Delta Connectivity Project, in particular the design of the Cao Lanh Bridge, which will deliver significant economic and social benefits by improving transport access for residents in the densely populated central Mekong Delta region of Vietnam.
On institutional reform, the aid budget will fund ongoing support for phase 2 of Beyond WTO, an important program which will help Vietnam's effective integration into the world's economy, the statement wrote.
Australia will continue working with the Government of Vietnam to improve the lives of the poor through increased access to clean water and sanitation facilities in rural areas, the Australian Embassy said in the announcement.
In 2010-11 under the Delivering Better Health initiative, Australia will provide funding to improve Vietnam's health system to ensure quality, cost effective care is accessible to all.
Working with the Government of Vietnam and local communities, Australia is helping communities prepare for future disasters, improving their capacity to rebuild and get on with their lives in the wake of natural disasters which are so common to parts of Vietnam.
Funds will also be used to help Vietnam manage cross-border and regional threats such as HIV/AIDS, people and drug trafficking and transnational crime, and address issues relating to corruption and gender equality.
In 2010-11, total Australian Overseas Development Assistance is estimated at A$4,349 million up from A$3,818 million in 2009-10, according to the embassy.