Viet Nam's National Assembly Chairman Nguyen Phu Trong proposed that the Vietnamese and Australian parliaments should further enhance bilateral cooperation and exchanges to share experiences.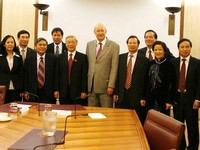 Representatives of the Vietnamese and Australian parliaments pose for picture in Canberra on Tuesday.
The top Vietnamese legislator made the proposal during his talks with President of the Australian Senate Alan Ferguson in Canberra, Australia, on Tuesday.
He affirmed, "Viet Nam always attaches importance and wants to promote multi-faceted cooperation with Australia to make it commensurate with both sides' potentials and benefits."
Senate President Alan Ferguson said Australia - one of the first countries that established diplomatic ties with Viet Nam in 1973 – highly values its cooperative ties with Viet Nam as well as the latter's contributions to the region.
Over recent years, Viet Nam has deeply integrated and manifested its position and role in the region and the world through its admission to the World Trade Organization, its successful hosting of the APEC 2006 and its presence at the United Nations Security Council, the Senate President said.
Mr. Ferguson also recognized the Vietnamese community's active contributions in Australia.
The two parliamentary leaders agreed to accelerate the exchange of information and experiences in deploying legislative and supervision work in the government's activities, holding question and answer sessions and the process of ratifying the budget and the disbursement of the budget.
After the talks, Chairman Trong and the Speaker of the Australian House of Representatives, Harry Jenkins, witnessed the signing ceremony of an agreement in which the Vietnamese National Assembly and the Australian House of Representatives pledged to establish partnership relations.