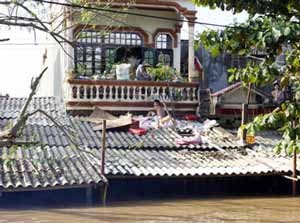 Viet Nam has been more vulnerable to climate change, facing more storms and floods.
Australia will provide US$450,000 to investigate the impacts of climate change on the Mekong River Basin, the Australian Embassy in Ha Noi said.
It said the Australian Parliamentary Secretary for International Development Assistance announced the initiative on April 2 in Cambodia's Phnom Penh.

The funding will be provided through Australia's international aid agency, AusAID, said Australian Ambassador to Viet Nam Bill Tweddell.
"AusAID will partner with the Commonwealth Scientific and Industrial Research Organisation and the Mekong River Commission to develop climate change prevention and adaptation strategies, with a focus on addressing threats to food security," he said.
"The Mekong Basin is one of the most productive inland fisheries in the world and communities rely on the Basin for their livelihoods through agriculture and fisheries. Understanding how to mitigate and adapt to climate change is critical to maintaining productivity and protecting livelihoods," added Mr. Tweddell.
AusAID works across the Mekong sub-region to improve water resource management along the Mekong River.
Australian assistance is building effective institutions, scientific knowledge and planning for water resource management. With the Mekong River Commission, this includes support for a major program to build scientific and technical skills in four Mekong countries – Viet Nam, Laos, Cambodia and Thailand.