The Australian Agency for International Development announced that it would grant 1.63 million euros (US$2.6 million) as non-refundable aid to a 1.2 million hectare environmental reserve in the southern province of Kien Giang. The announcement came after a meeting with the province's People's Committee on Wednesday.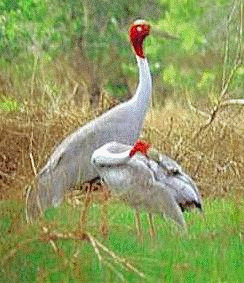 Red-headed cranes in Kien Giang environmental reserve
The project is entitled, "Preserving and developing key biosphere reserves in the southern Kien Giang province" is part of the program "Wetland and coastal forests in the Mekong Delta" which is jointly funded by Australia and the German Organization for Technical Cooperation (GTZ).
The project will receive 160,000 euros (US$250,000) from the province's budget to be completed by 2011.
The project management board will assess the impact of climate change on the reserve to protect and develop its forests.
They will also try to raise awareness of sustainable protection for forest land and improve residents' living conditions. The Kien Giang Environmental Reserve is one of Viet Nam's five UNESCO-recognized reserves. The other two are Can Gio and Cat Tien salt-marsh forests, the Cat Ba Island, and a water-logged area in the Red River Delta.