Over 100 youths and students from nearly 30 member countries of the Asia - Europe Meeting (ASEM) gathered together in Hanoi on April 1 for the 2016 ASEM Youth Week themed "Stronger Actions to Address the Zero Hunger Challenge" and the Model ASEM.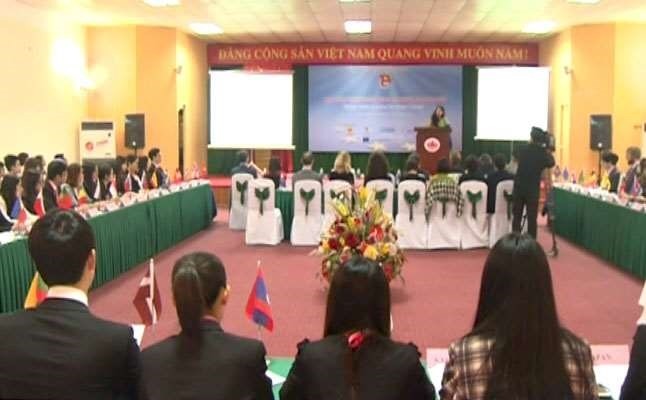 The opening ceremony of the week (Source: http://thst.vn)
Jointly organised by the Central Committee of the Ho Chi Minh Youth Union in collaboration with the Ministry of Foreign Affairs, Asia-Europe Foundation (ASEF), British Council (BC) and the ASEF University Alumni Network (ASEFUAN), the events aim to raise awareness among the youth of their potential in poverty eradication.
They also provide participants a platform to take action in the fight against hunger, contributing to ASEM's efforts in deploying the United Nations' 2030 Agenda for Sustainable Development.
In his speech at the event, Secretary of the Central Committee of the Ho Chi Minh Youth Union Dang Quoc Toan mentioned the challenges facing young people from ASEM countries, citing that many young people have no access to high-quality education and healthcare services.
These are obstacles for socio-economic development in any country, both in the ASEM region and the world, he stressed.
Toan hopes the events will be a bridge connecting youths in the ASEM region, contributing to strengthening friendship among Asian and European countries.
The ASEM Youth Week, the first of its kind to be held in Vietnam, is an initiative released by Prime Minister Nguyen Tan Dung and co-sponsored by Brunei, Laos and Ireland, which was endorsed at the 10 th ASEM Summit in October 2014 in Milan, Italy.
In the framework of the week, participants will hear reports on the reality of the poverty reduction process in ASEM member nations, and the role of enterprises in generating jobs for young people.
At the Model ASEM, a simulation of the actual ASEM Summit, young participants will act as leaders to discuss the pillars of ASEM, namely politics, economy, and socio-culture, and then recommend measures to promote links among ASEM youths, and how they can be involved in addressing regional and global issues. A joint statement will be issued at the closing session of the meeting.
In the framework of the events, participants will also take part in voluntary activities in northern Quang Ninh province.