The sixth ASEAN People's Forum (APF6) wrapped up in Hanoi on Sept. 26, after adopting a joint statement affirming support for the implementation of the ASEAN Charter and the building of the ASEAN Community towards people.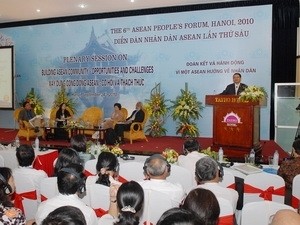 Photo: Vietnam News Agency
The joint statement called on the Association of Southeast Asian Nations, or ASEAN, and its members to step up the performance of mechanisms and agreements in order to maintain peace and security, prevent conflicts and deal with disputes in a peaceful way.
It also urged the bloc to develop policies regarding culture, society, equality, respect and protection of rights of people, especially women, children, ethnic minorities and the disabled.
For the first time, Agent Orange-related issues were shared and received the support from ASEAN people's organisations, and made into a content of the joint statement.
At the previous plenary session, the delegates discussed the integration and cooperation amongst people from the regional nations in a move to build a people-centered community.
Speaking at the closing ceremony, Vice President of the Vietnam Union of Friendship Organisations Tran Dac Loi said the APF 6 was a success. The participation of the delegates from different groups, including young people, women, farmers, fishermen and the disabled, proved the diversity of the forum.
Loi, who is also Head of the APF 6 Organising Committee, said the forum was a chance for ASEAN people to increase mutual understanding and build new connectivity networks for peace, friendship and development in the region.
At the closing ceremony, Vietnam officially handed over the chairmanship of the 7th APF to Indonesia.
Loi and Mida Saragih, representative of Indonesia's people's organisations, co-hosted a press conference following the ceremony to inform the results of the 6th APF.