ASEAN economic ministers August 26 met with representatives from the bloc's important trade and investment partners, who are expected to become strategic partners in near future, within the frame work of the 42nd ASEAN Economic Ministers' Meeting in Da Nang.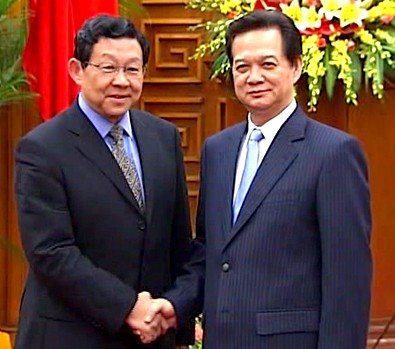 Prime Minister Nguyen Tan Dung (R) meets with Chinese Minister of Commerce Chen Deming on August 23.
The bloc's investments partners include China, Korea, Japan, Australia, New Zealand, India, European countries and Russia.
In talks with Chinese Minister of Commerce Chen Deming, the ministers agreed that China is the ASEAN's largest trading partner.
According to ASEAN statistics, last year, bilateral trade between China and ASEAN reached US$178.2 billion. However, foreign investment from China was affected by the global crisis with total bilateral trade was down from US$2.1 billion in 2008 to $1.5 billion in 2009.
In the face of the situation, ministers agreed to enhance the ASEAN-China Trade in Goods Agreement and to improve its implementation, and endorsed the ASEAN-China Free Trade Area (ACFTA) Agreement's Product Specific Rules.
On the same day, the second Mekong – Japan industrial economic ministerial conference also was held in Da Nang.
The ministers discussed and approved an action plan to implement the Mekong – Japan Industrial and Economic cooperation initiative.
The initiative shows actions, which need to implement to develop infrastructure, as well as to create good conditions to develop trade, service and other new technologies.