Another shark suspected of attacking several people off the coast of Quy Nhon City in the central province of Binh Dinh was caught on April 13 by a local fisherman.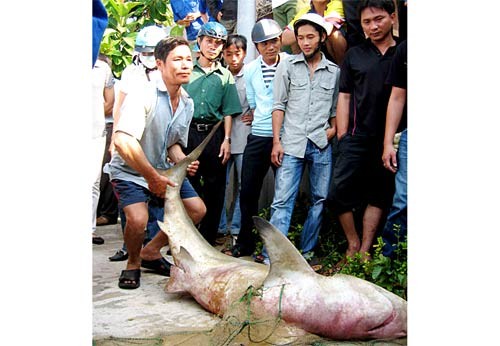 A shark, caught by a local fisherman on Quy Nhon beach on April 13, is thought to be the same one to have attacked several swimmers earlier this year (Photo: SGGP)
The shark weighs 60 kilograms and measures 1.6 meters long and 1 meter wide. The perimeter of the animal's jaw measures 20 centimeters.
It was caught 500 meters off the coast of Quy Nhon City by fisherman Do Van Cong.
Nguyen Huu Hao, head of the Binh Dinh Seafood Resources Exploitation and Protection Agency, said the shark may be the same one that has attacked people at Quy Nhon beach as all bites on victims' bodies have a perimeter of about 17 centimeters, nearly equivalent to the perimeter of the shark's jaw.
Other sharks could still be lurking in the Quy Nhon sea so people should remain cautious when swimming in these waters and stay very close to shore, Mr. Hao added.
On the same day, Mr. Cong sold the shark for VND5 million and also received a reward of VND5 million from the Binh Dinh Province People's Committee for the capture.
Local authorities had earlier announced a reward for anyone able to catch an unidentified sea creature that locals blamed for attacking at least 10 people since July 2009. In January 2010 alone, three swimmers were attacked.
The first shark was caught in the central province of Phu Yen on February 4. It weighed one ton; measured five meters long, and had a jaw of 0.65 meters in length. This shark was also suspected of attacking people in Quy Nhon.