Another strong earthquake shook Bac Tra My District in Quang Nam Province at 1.34pm on Thursday, reported Dang Phong, chairman of the district People's Committee.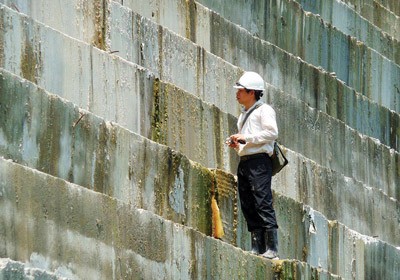 An expert from the Institute of Science and Technology examines the Song Tranh 2 Hydropower Plant dam (Photo: SGGP)
Though the earthquake was strong it was still milder than the 4.1 magnitude quake on September 23.
Frequently recurring earthquakes have spread panic among residents in Bac Tra My District, many of who are from ethnic minority groups living in resettlement areas around Song Tranh 2 Hydropower Plant.

Several households have abandoned their homes and set up temporary camps elsewhere in fear.
According to the Institute of Geophysics, an earthquake of 3.8 magnitude on the Richter scale was recorded at 1.35pm on Thursday in Bac Tra My District. The epicenter of the quake was 10km from the Song Tranh 2 Hydropower Plant.
A press conference is expected to be held this morning, September 28, at the People's Committee office in Quang Nam Province to reassure the people on the safety of the Song Tranh 2 Hydropower Plant.
On Thursday, a delegation from the Central Steering Committee for Flood and Storm Prevention and Control, led by Nguyen Xuan Dieu, deputy head of the General Department of Irrigation under the Ministry of Agriculture and Rural Development, surveyed the earthquake belt in Bac Tra My District.
The delegation visited residents' houses and schools in the area affected by the quakes, inspected the Song Tranh 2 Hydropower Plant and met with authorities in Bac Tra My District.
Huynh Ngoc Thieu, head of the Agriculture and Rural Development Department in Bac Tra My District, said that 211 houses faced cracks after the quake on Thursday.
Authorities in the district have now organized three courses to raise awareness and knowledge of how best to cope with earthquakes.
Financial aid and 10 tons of rice is also being provided to families whose houses faced cracks from the quakes. In the long term, the district authorities have a plan to evacuate residents in a hurry, in case of a dam breach, said Mr. Thieu.
However, Mr. Dieu has instructed local authorities, the investor of the Song Tranh 2 Plant and related units to prepare an evacuation plan irrespective of a dam breach and also have ready a plan for coping with floods and storms in the lower reaches of the plant.
Related articles:
Quang Nam Province seeks expert opinion on earthquakes
Four tremors in 14 hours rattle Quang Nam Province