The 31st meeting of the ASEAN Inter – Parliamentary Assembly (AIPA) meeting opened on September 21 in Hanoi, focusing on the issues of economy, politics, society and gender equality.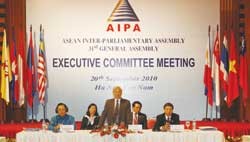 Chairman of the National Assembly and AIPA-31 President Nguyen Phu Trong at the opening session of the Executive Committee Meeting. (Photo:VNA)
With the theme "Solidarity for Sustainable Development of the ASEAN Community", the AIPA-31 General Assembly will also discuss regional peace and security and climate change.
Chairman of the Vietnamese National Assembly and  AIPA-31 President Nguyen Phu Trong was scheduled to deliver the opening speech for AIPA.
Prime Minister Nguyen Tan Dung was also scheduled to speak to welcome AIPA.
Women Parliamentarians of the ASEAN Inter-Parliamentary Assembly (WAIPA) meeting took place in Ha Noi yesterday, drawing the participation of 28 female parliamentarians from nine AIPA member delegations.
AIPA female parliamentarians discussed draft resolutions on improving social welfare and development for women and children, the role of women in economic recovery after the financial crisis and women's participation in the political field as well as the role of female parliamentarians in law making.
The ASEAN Inter – Parliamentary Assembly Organization (AIPO) was established on September 2, 1977 with five founding members including Indonesia, Malaysia, Philippines, Singapore and Thailand.
AIPO has ever since grown and developed with the subsequent membership of Viet Nam, Laos, Cambodia and most recently, Brunei has become the 9th member in the AIPA – 30 held in Thailand. AIPO, now known as AIPA, has developed partnership with the parliaments in China, Japan, South Korea, Russia, Australia, New Zealand, Papua New Guinea, Canada and Europe.