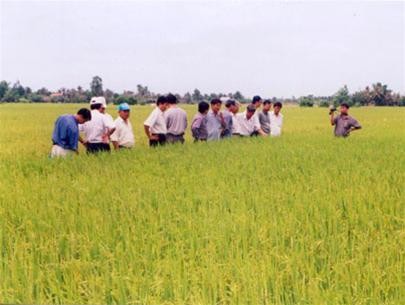 Agriculture experts follow up a rice field in An Giang Province
An agriculture official in the Mekong Delta has been suspended from his job for not having fulfilled his duty in coping with leaf diseases in paddy fields caused by brown plant hopper Nilaparvata lugens, which has caused an epidemic in the southern delta.

Huynh Quang Vinh, director of the Plant Protection Division of My Xuyen District in Soc Trang Province, failed to follow up developments of the leaf diseases and to give prompt instructions to local farmers, said Huynh Thanh Binh, chief of the province's Plant Protection Department.
The leaf diseases have harmed 8,000 hectares of rice in the province, and another 7,000 hectares have contracted the brown plant hoppers.
The whole province will launch a major campaign this Friday to fight against the insects and diseases.
In a related development in An Giang Province also in the Mekong Delta, the Department of Agriculture and Rural Development has proposed the provincial leaders to allow it to destroy all of nearly 30 hectares of rice with high epidemic risks.
The agriculture department also proposed the provincial officials to strictly discipline local agriculture officials who let farmers grow rice at present, because farmers are supposed to make this after the epidemic ends.
The Ministry of Agriculture and Rural Development and Mekong Delta provinces are seeking to fight the epidemic, which is threatening the nation's food security.
Related Article
Rice Insects Cause Epidemic, Threaten Food Security