Delegates at the ongoing 11th National Party Congress have discussed agriculture, farmers and rural areas in Vietnam's socioeconomic development strategies for the 2011-2020 period because agriculture is playing an important role in the country's development process.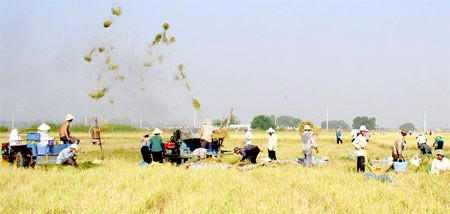 Farmers in the Mekong Delta province of Dong Thap harvest rice (Photo: SGGP)
About two-thirds of the country's population is currently farmers or people working in the agricultural sector.
 
Delegates have agreed that developing agriculture in the industrialization and modernization period means improving many technical skills, competencies and the education of farmers.
 
Farming has become a major factor of the country's agricultural development process. Therefore, building new rural areas means developing and improving agriculture in those areas.
 
Delegates have stressed that farmers have to become a major factor of the country's agricultural development process.
 
Building new rural areas means that developing agriculture in those areas, more and more improving farmers' lives and ensuring social welfare for them in the industrialization and modernization course.
 
Nguyen Quoc Cuong, chairman of the Vietnam Farmers' Association, said the planning of rural and production areas has to be the main focus, as it is the basis of the development of modern rural infrastructure.
 
Mr. Cuong said planning will help develop production areas specializing in certain produce that have a large volume and high quality, in that they need to meet high food hygiene regulations and export standards.
 
In addition, Mr. Cuong said proper planning is necessary as it helps establish new-model cooperatives, encourage farmers to invest more in machinery and apply cultivation techniques into their farming, link production with the market, and improve the profitability of goods for export.
 
Mr. Cuong said if farmers' living standards are not enhanced, their role in agricultural development and the building of new rural areas will be deferred.
 
Strengthening farmers' role
 
Although the agricultural sector contributes only 20 percent of the national GDP and 23 percent of the national export growth, its investment efficiency has been much higher than other sectors.  
It is one of very few economic sectors that have seen an excess of exports over imports.
 
At present, Vietnam is one of the world's leading exporters of pepper and cashew nuts, ranks second in the export of rice and coffee and third in the export of rubber.
 
Vietnamese farmers' agricultural products have made a signicant contribution in enhancing the country's position in the world economy.
 
In the context of globalization, Vietnamese farmers have competed fiercely with their counterparts from the developed world.
 
Mr. Cuong said farmers have been aware that the only way for them to stand firm in the market mechanism and enrich their country is to implement modern and industrial agricultural techniques.
 
According to Mr. Cuong, Vietnamese farmers in the new period will need to become a progressive labor force with high labor productivity, quality and efficiency, a strong political and social force under the Party's leadership, and a force that will preserve and enhance the cultural and national character in rural areas.