Minister of Agriculture and Rural Development Cao Duc Phat paid his working visit to Binh Phuoc province to eye on the long- lasting drought situation and focus drought -prevention measures on April 23.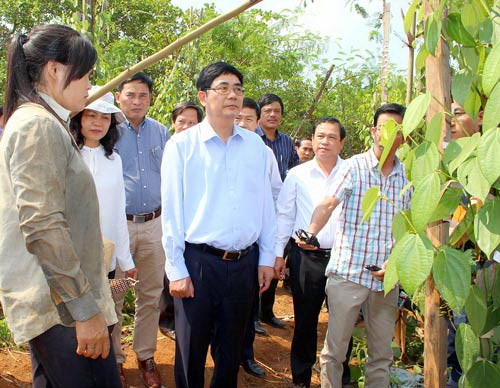 Minister of Agriculture and Rural Development and local authorities inspect drought situation in Bu Dop district of Binh Phuoc province. (Photo:SGGP)
Binh Phuoc province People's Committee reported that nearly 32, 100 families have suffered in the month- long fresh water shortage and more than 27, 500 hectares of plants withered, 45, 600 local hectares of forest lands warned in forest fire and 1, 847 buffaloes and crow faced lack of drinking water, causing total damage of VND 670 billion.
Earlier, a cyclone hit the province, causing 186 hectares of plants damaged and 54 houses unroofed on April 18, with a loss of VND eight billion.
At present, Binh Phuoc has total 66 irrigational works supplying water source for 17, 657 hectares of crops and 89, 809 cubic meter per day for residents; however, because of the influence of the serious drought, water level in local rivers and water reservoirs are reducing sharply such as water level at irrigational works on Be River including Thac Mo, Can Don, Srok Phu Mieng reduced at 8, 2 meters.
Minister Cao Duc Phat highly appreciated active preparation and prevention methods of local farmers and authorities for the natural disaster in the previous time such as digging wells, irrigating water sources from neighboring regions. Besides, the minister asked the province need to upgrade and build local water reservoir systems to ensure enough water sources for the daily use of local residents and planting.