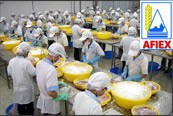 Workers process products at the factory in An Giang province.
To widen its export markets of aquatic products, Afiex Company established Afiex "safe" fish association in accordance with the SQF 1000 standard.

The company will advise the households in the Mekong Delta on rearing procedures meeting the SQF 1000 standards. Afterwards, the company will ask a Swiss organization to inspect the households' rearing areas to provide them with certificates.

The company will consume all "safe" fishes at the price of over VND13, 000 per kilo in 2006. The association will provide fishermen with full information of policies, market conditions and techniques, even advanced breeding technology transfer so that they can employ the techniques to their local aquacultural business.